The Canadian armed forces' new fleet of 16 Airbus Defence & Space CC-295 Kingfisher search and rescue aircraft may not reach initial operating capacity (IOC) until as late as 2026.
The first Kingfisher, which is built on a C295 platform, was delivered to the Royal Canadian Air Force (RCAF) in September 2020. The full fleet was scheduled to reach IOC status by summer 2022.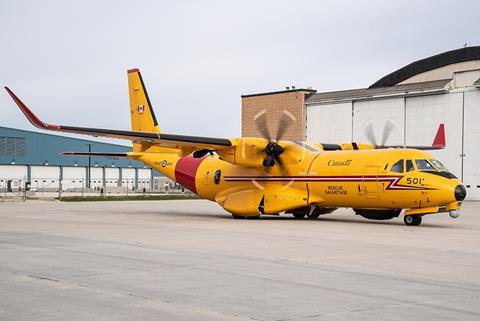 However, that has now been delayed substantially. In a written statement, Ottawa says the CC-295 will not reach IOC until sometime in the 2025-2026 time range.
The change is attributed to extended timelines associated with the design and development of the aircraft's capabilities, as well as unforeseen technical issues and the Covid-19 pandemic. Such factors have compounded the complexity of the project and volume of remaining work.
The armed forces describes the delay as unfortunate, but not unusual for a complex project.
The Kingfisher is meant to replace the de Havilland Canada CC-115 Buffalo, which was retired in January, and the Lockheed Martin CC-130H Hercules. The Buffalo was retired from service as scheduled. Ottawa says search and rescue coverage across Canada's vast expanse of wilderness will be maintained by shifting CC-130H assets and the use of other RCAF aircraft as needed.
Two search and rescue wings have already been fielded Kingfishers and will fly them operationally.
The CC-295 deal is currently valued at $2.26 billion.