The Royal Canadian Air Force (RCAF) has ordered an operational pause for its fleet of 20 Canadair CT-114 Tutor flight demonstration jets following an in-flight emergency.
The move was announced on 10 August by the Canadian Department of National Defence (DND) after an in-flight emergency that occurred at Fort St. John, British Columbia earlier in the month.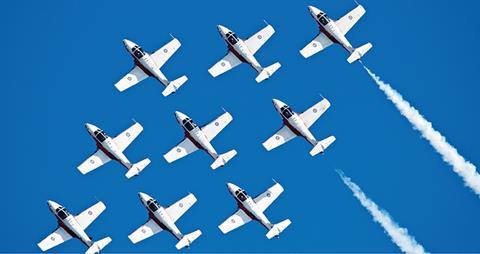 The DND says the incident occurred on 2 August, when the pilot of a CT-114 with 431 Air Demonstration Squadron was forced to make an immediate emergency landing during take-off. The aircraft was damaged in the process, but the pilot was uninjured.
"Royal Canadian Air Force aircraft cannot be flown unless they are determined to be airworthy and safe to fly," says Major General Iain Huddleston, commander of 1 Canadian Air Division and the RCAF's airworthiness authority.
"Given that the cause of this accident remains to be determined by the Airworthiness Investigative Authority, I have ordered an operational pause on the CT-114 Tutor fleet as we continue the investigation and commence a thorough operational airworthiness risk assessment process," Huddleston adds.
A separate CT-114 crash in 2020 that occurred near Kamloops, British Columbia killed one RCAF officer and injured another. An RCAF investigation into that incident concluded that a birdstrike to the aircraft's engine intake resulted in a compressor stall, loss of thrust and ultimately aerodynamic stall.
The pilot and passenger ejected from the Tutor, designated Snowbird 11, at a low altitude and under conditions that were "outside safe ejection seat operation parameters", according to the investigator's report. As a result, the parachutes were not able to engage properly.
Based on the findings, then-RCAF flight safety director Colonel John Alexander recommended better training for a loss of engine power at low altitude, updating ejection procedures and technical improvements to the ejection system.
Currently, the Tutor is only operated by the RCAF's Snowbirds flight demonstration team. The CT-114, known by Canadair as the CL-41, previously served as the RCAF's primary jet trainer until 2000.
Canadair was acquired by Montreal-based Bombardier in 1986. The company produced the Tutor during the 1960s, making the airframe roughly 60 years old.
The RCAF says it will conduct an airworthiness investigation and broad risk analysis of the CT-114 fleet, with the aim of safely resuming flight operations. None of the aircraft will fly until the investigation is completed.
The inquiry will assess whether the accident and its causes pose any risk to continued flying operations and what mitigation measures can but put in place to lower those risks, according to the RCAF.
"We will return the fleet to flying operations when it is safe to do so, and in accordance with our rigorous airworthiness programme," says Huddleston.