An Antonov An-124 Ruslan super-heavy cargo transport seized by Canadian authorities at the start of the ongoing Russia-Ukraine war could soon be assisting Ukrainian defenders.
The jet was previously owned by Russian cargo carrier Volga-Dnepr Airlines. It was on the ground at Toronto Pearson International airport on 27 February 2022, when Ottawa closed its airspace to Russian aircraft in response to Moscow's invasion of Ukraine.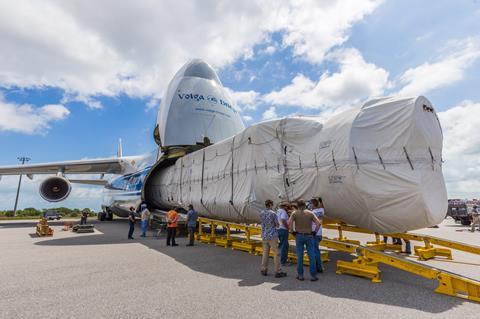 Canadian authorities subsequently impounded the heavy-lift aircraft, whose payload capability is some 150,000kg (330,695lb). Now, Ottawa is preparing to transfer the aircraft to the Ukrainian government.
The move was announced on 16 April by Ukrainian Prime Minister Denis Shmyhal, following a visit to Washington DC and Ottawa.
"We are preparing to confiscate the An-124 aircraft and other assets of the aggressor in Canada and transfer them to Ukraine," Shmyhal says.
He adds the move is part of a "new package of sanctions" that will target Russian entities, including Volga-Dnepr.
The cargo hauler has faced numerous headwinds since the Kremlin launched the offensive war against its southern neighbour. Volga-Dnepr has had multiple aircraft seized by Western governments opposed to Russia's war, including three An-124s in Germany and the one in Toronto.
According to reports, in March the company said it was ceasing operations of subsidiaries AirBridgeCargo and Atran that operate American-made Boeing 747 and 737 freighters.
Russian registered Antonov An124 is now parked on Taxiway N in Toronto. It will sit here indefinitely. They planned a departure this morning,since cancelled.Arrived on Sunday from China via Russia & Anchorage. Russian aircraft are banned in Canadian airspace.
Volga-Dnepr RA-82078 https://t.co/OGXNFInAQU pic.twitter.com/3rfxhRDUs5

— Tom Podolec Aviation (@TomPodolec) February 28, 2022
Sanctions levied by Washington ban US companies from doing business with Russian firms, choking supplies of critical replacement parts.
Volga-Dnepr now exclusively operates An-124s and Ilyushin Il-76 transports, according to Cirium data.
The An-124 has been compared to the Lockheed Martin C-5 Galaxy strategic transport in service with the US Air Force. Both aircraft have upward-pivoting nose cones that allow massive cargo payloads to be loaded and unloaded.
In 2020, a Ruslan operated by Volga-Dnepr transported a 32m (107ft)-long Atlas V first-stage rocket booster to Cape Canaveral, Florida for a NASA satellite launch.
There are only eight An-124s in service worldwide and 10 in storage, according to Cirium data. Moscow-based Volga-Dnepr is shown as the owner of 11 – three in service and eight in storage. It is unclear if the storage category includes the impounded aircraft.