Fighter jets from the Royal Canadian Air Force (RCAF) are now patrolling the skies over Eastern Europe.
Eight RCAF Boeing F-18 Super Hornets, designated as CF-18s in Canada, assumed air patrol duties in Romania on 4 August, the Canadian Department of National Defence (DND) says.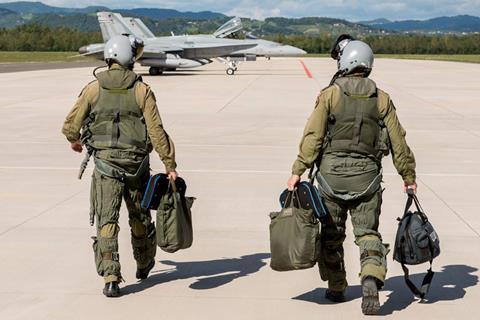 The Canadian crews and jets are participating in NATO's Air Task Force Romania (ATF-R), which conducts round-the-clock air patrols along the military alliance's eastern flank. Based at Mihail Kogalniceanu air base on Romania's Black Sea coast, they will contribute to a 170-person force of aviators, ground crews, logisticians and other support personnel.
So-called enhanced air police missions like ATF-R partner Eastern European air forces with larger NATO members like Canada and the USA. The initiative to supplement the air wings of eastern alliance members began in 2014, following Russia's invasion and annexation of the Crimean peninsula from Ukraine.
"Ever since Russia's initial invasion of Ukraine in 2014, Canada has been steadfast in demonstrating our commitment to NATO's collective defence across Europe," says Canadian defence minister Anita Anand.
"Air surveillance and policing is a critical part of maintaining a nation's security in the face of aggressive nations that continuously seek to test the defences of their neighbours", she adds.
RCAF Major General Iain Huddleston notes that the current rotation marks the seventh time Canadian air crews have deployed to Romania since 2014.
"This year is understandably different, in that the threat is even more palpable," Huddleston notes, referencing the on-going war in Ukraine, which shares land and sea borders with Romania.
"We are proud to work with and stand by our Romanian counterparts, who value our contribution to their air policing activities at a time of growing tensions over Russia's invasion of Ukraine," Huddleston adds.
The majority of the aircraft and personnel sent by Canada were drawn from the RCAF's 425 Tactical Fighter Squadron based in Bagotville, Quebec, according to the DND.