Taiwanese defence officials say China is continuing heavy military activity in skies and waters around the disputed island.
Live-fire military exercises being conducted by China's People's Liberation Army (PLA) had been set to conclude on 8 August. However, Beijing announced on the same day that the drills would continue.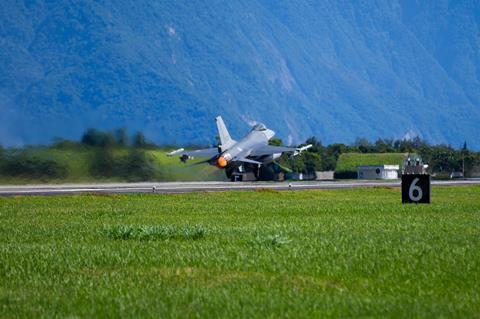 The PLA's Eastern Theater Command says that the renewed manoeuvres will focus on "anti-submarine warfare and sea assault operations", domains that would be critical for any invasion of the self-governing island to which Beijing lays claim.
Taiwan's Ministry of National Defence (MND) reports that on the day the Chinese drills were slated to conclude, some 40 PLA aircraft were detected in the skies surrounding the island. 45 Chinese military jets where observed on 9 August, according to the MND.
Lockheed Martin F-16Vs belonging to Taiwan, armed with Raytheon AIM-120 Advanced Medium Range Air-to-Air Missiles were scrambled to intercept the PLA sorties, according to the MND.
Joseph Wu, Taiwan's foreign minister, speaking in Taipei on 9 August, denounced Beijing's exercises, describing them as a rehearsal for a military invasion.
The Chinese Communist Party has made reunification with Taiwan, which has been politically independent from mainland China since 1949, a national strategic goal.
"It's very concerning," Wu says. However, Taiwan's top diplomat struck a defiant tone, declaring: "We are not scared by China."
On the opposite side on the island, the Taiwanese military launched its own series of military drills geared toward defending against an amphibious invasion. Those exercises were already planned before the recent Chinese action, but now take on new urgency for the democratic government in Taipei.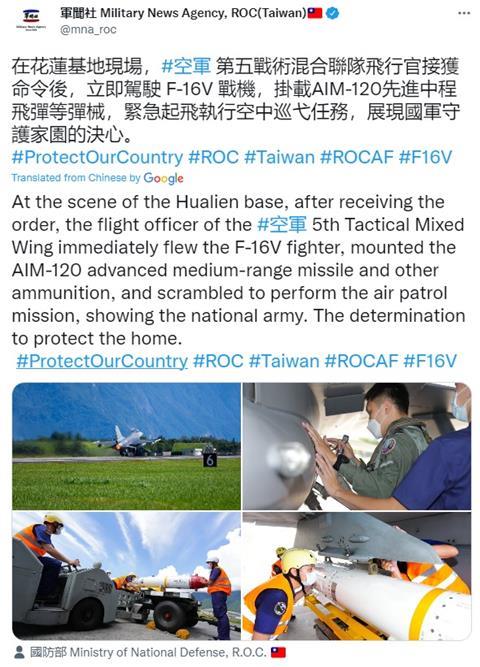 The state-run Central News Agency (CNA) reports that the drills in southern Taiwan will test the army's combat readiness in response to the recent Chinese military activity. Those manoeuvres are expected to conclude after 11 August, CNA says.
Separate military exercises are planned by Taiwan in September that will test the ability of the army's aviation forces, including Bell AH-1W Super Cobra and Boeing AH-64 Apache attack helicopters to support ground forces, according to an unnamed government source cited by the CNA.
In May, Taiwan conducted live-fire missile exercises, including the launch of Sky Bow surface-to-air missiles, a domestically-built platform developed with the help of the USA's Raytheon.
According to the Military News Agency, that live-fire missile training incorporated Taiwan's navy, air force and coastal guard with the state purpose of demonstrating "their determination to defend the security of the Taiwan Strait".
While a senior US defence official said on 8 August that the Pentagon does not believe a PLA invasion of Taiwan is imminent, foreign minister Wu sounded the alarm in Taipei the following day.
"[It] gives us a clear image of China's geostrategic ambition beyond Taiwan," Wu says. "China's real intention beyond these military exercises is to alter the status quo in the Taiwan Strait and the entire region."