The US military takes too long to develop new technologies and turn them into effective battlefield platforms.
That is the assessment of Deputy Secretary of Defense Kathleen Hicks, who on 31 August stressed the need for the US military to accelerate the pace at which it develops and fields technological advancements.
"Simply put, we don't have decades to wait for the latest and greatest concepts and capabilities to proliferate across our military forces," says Hicks, speaking at a Defense Advanced Research Projects Agency (DARPA) conference in Colorado.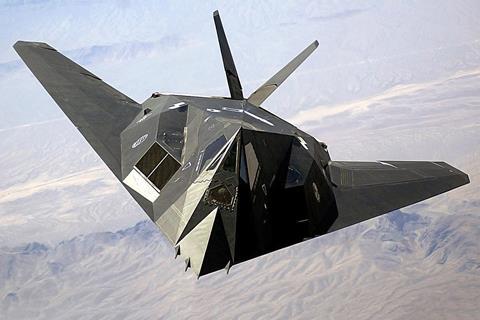 As an example, she cites the rollout of stealth technology for the Department of Defense (DoD) fleet of combat aircraft, which spans the USA's air force, navy and marine corps.
"When DARPA initiated the project that led to the first experimental stealth aircraft – Have Blue – to when DoD fielded an operational F-117 Nighthawk… took nearly a decade," Hicks notes.
Lockheed Martin's F-117 was the world's first operational stealth aircraft, developed by the company's Skunk Works and based on the HB-1001 Have Blue demonstrator. The ground-attack bomber, and the stealth technology that enabled it, gained wide public attention after the aircraft's combat service over Iraq and Kuwait in the 1990-1991 Gulf War. The type was retired from combat service but has since returned to active duty as a low-observable aggressor training airframe.
Hicks notes that even after the F-117's success, "it took another decade for stealth technology to be incorporated into an operational B-2 bomber", referring to Northrop Grumman B-2 Spirit strategic bomber. The B-2 remains in service, part of the USA's nuclear-deterrent strategy.
Then, it took "another decade or two" for stealth to be "mainstreamed" across much of the Pentagon's combat-aircraft fleet, in the form of the Lockheed F-22 and the F-35 fifth-generation fighters. The sprawling F-35 Joint Strike Fighter project was beset by numerous delays and cost overruns. It is projected to be the most-expensive weapons development programme in history.
"Perhaps that timeline was tolerable in the Cold War, when our main strategic competitor was relatively lumbering and slow," but not in today's fast-paced, technologically changing world, Hicks says.
The push for more-rapid development and fielding of new systems has become a DoD-wide initiative, with particular focus on software that powers complex weapon systems like modern aircraft.
Known within the Pentagon as modular open-systems approach (MOSA), the strategy will require future procurement programmes be built on open-source software. The goal is to allow third-party developers to quickly and cheaply create new sensors, weapons and other applications for existing platforms.
The US Air Force recently tested the first third party-derived software on a fifth-generation aircraft, and the US Army made MOSA a requirement for its Future Vertical Lift (FVL) initiative to develop the next generation of combat helicopters.
Major General Walter Rugen, head of FVL, recently emphasised the importance of MOSA.
"What you're seeing… with MOSA is this flexibility to bring whatever the commander needs and tailor it," Rugen said on 23 August at the Center for Strategic and International Studies in Washington DC.
He and other military leaders say rapidly developing new applications to meet battlefield needs in potential conflicts could give US forces a substantial leg up.
While MOSA has been incorporated into FVL designs, the concept has produced concern in the defence industrial sector. Previously, after a design was selected and contracts awarded, the original manufacturer would hold an effective monopoly on sustainment and subsequent modernisation, which were dependent on proprietary software.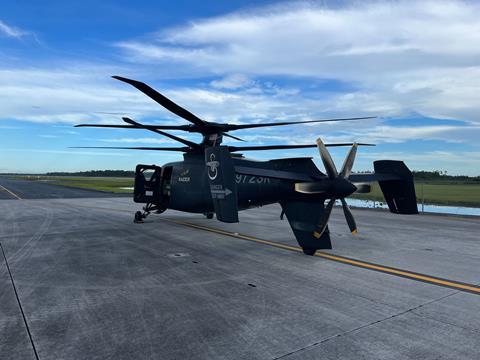 The open-source approach potentially undermines that, threatening future revenue streams. Rugen acknowledges that concern, in an industry with inherently massive up-front costs, but argues the shift is essential to reign in programme costs and ensure battlefield flexibility.
But FVL is not necessarily a shining example of the rapid development Hicks seeks.
Between development, competitive testing, production and eventual fielding, timelines for the Future Long Range Assault Aircraft (FLRAA) replacement for the Sikorksy UH-60 Black Hawk and the Future Attack Reconnaissance Aircraft (FARA) successor to the Bell OH-58 Kiowa scout resemble the multi-decade scale from which Hicks wishes to escape. FARA and FLRAA are the two programmes under FVL.
Rugen notes the US Army re-capitalises aircraft fleets roughly every 50 years, that FLRAA and FARA represent revolutionary advancements in rotor flight, and that they will see service for decades.
Still, Hicks urges shorter procurement timelines.
"We have to evolve faster than the threats evolve, which means our capabilities must be designed and built to be flexible, adaptable and interoperable from the beginning," she argues. "We must keep building and growing our enduring advantage."