Canadian avionics manufacturer CMC Electronics has won a contract to upgrade the South Korean air force's Korean Aerospace Industries (KAI) KA-1 Woongbi trainer aircraft.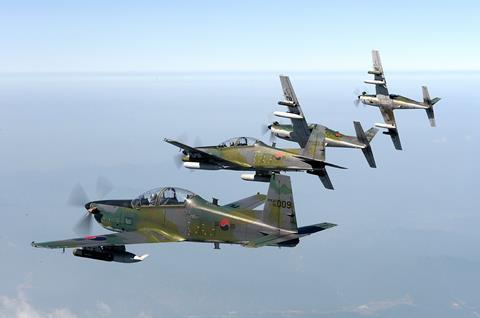 Montreal-based CMC said on 11 July that it will install its PU-3000 multi-core mission computer in the Republic of Korea Air Force (ROKAF) KA-1 fleet, under a contract with KAI.
CMC will also consolidate several independent cockpit instrument displays into a single unit called a large-area display (LAD), which the company says will allow pilots to be trained more rapidly and at less cost.
"We believe that the upgraded KA-1 platform with a PU-3000-driven LAD interface will both increase aircraft availability and better prepare ROKAF pilots for their future modernised front-line fleet of KF-X fighters," says Brad Nolen, CMC's vice-president for sales and marketing.
CMC says its modernisation programme will allow the KA-1 to "emulate the advanced avionics of today's cutting-edge fighter aircraft".
South Korea has 104 single-engined KA-1s in its inventory, according to the 2022 FlightGlobal World Air Forces directory.
The propeller-driven aircraft entered service with the ROKAF in 1999. It is primarily used for pilot training, but can perform light attack and forward air control roles.
Jae Min Park, deputy senior manager for KAI's aircraft procurement team, says the PU-3000 upgrade will result in "vastly improved system performance and capabilities to the KA-1".