Collins Aerospace late last year completed flight tests that demonstrated a suite of integrated communications and networking technologies as part of a US military network-modernisation effort.
The aerospace giant, working at the University of Iowa, demonstrated its systems between 9 and 14 December 2021 using a Beechcraft Bonanza and two Soviet-era Mil Mi-2 helicopters, Collins says.
The purpose: to showcase technologies that could support the US military's Combined Joint All-Domain Command and Control project.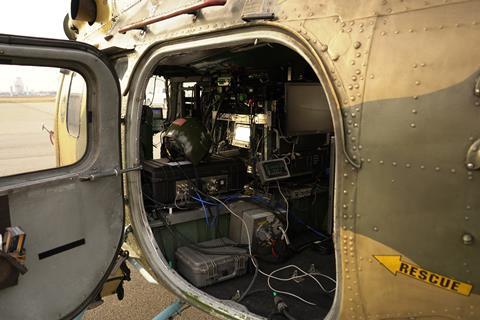 Through that effort, the US Army and US Air Force aim to develop a single computer network for use by all service branches. It would integrate with all branches' sensors, employ artificial intelligence and data processing, and facilitate improved communication within the military.
For the demonstration, the Mi-2s and Bonanza carried Collins equipment and played the role of three military aircraft types: a General Atomics Aeronautcial Systems MQ-1C Gray Eagle unmanned air vehicle, the US Army's in-development Future Attack Reconnaissance Aircraft (FARA) and "air-launched effects", which are drones designed to operate in concert with military aircraft.
Acting as "surrogates" for the military types, the demonstration aircraft "conducted a detect, identify, locate and report mission", Collins says.
During the simulation, the air-launched effects "identified and processed key target information" using a Collins-made autonomous mission system called RapidEdge, and transmitted data to the 'Gray Eagle' and 'FARA' using Collins Tactical Targeting Networking Technology, the company says.
On the FARA surrogate, several Collins products – including message processing software, a sensor management system and security technology – processed data. The systems categorised data by security level and sent information "to real and simulated ground and air platforms", says Collins.
In all, Collins integrated 13 hardware and software technologies for the tests and bridged four networks to form a "network of networks", it says.
Collins completed the demonstrations at the University of Iowa's Operator Performance Laboratory.