The Chilean air force is the first international customer to purchase upgraded, eight-bladed propellers for its Lockheed Martin C-130 Hercules transports.
The propeller system, made by Raytheon-subsidiary Collins Aerospace and known as the NP2000, is a retrofit that improves thrust by up to 20% during take-off, produces less sound and reduces maintenance hours by 50%, according to Collins.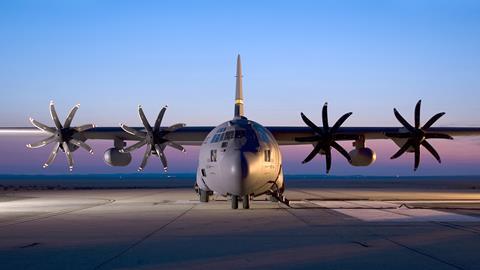 "Our innovative NP2000 system incorporates sophisticated state-of-the-art technologies designed to enhance efficiency and boost aircraft availability, as well as reducing crew fatigue and safety," says Quinlan Lyte, Collins' senior director of propeller systems. "We look forward to continuing to work with the Chilean air force and other future international customers to help them maximise the performance and availability of their C-130 fleet."
Older C-130s were fielded with four-bladed Hamilton Standard 54H60 propellers. The US Air Force (USAF) began testing the NP2000 system in 2010, specifically to provide better flight performance for one of the service's most austere missions.
"It is designed specifically for the LC-130 mission in Antarctica," said USAF Major CB Cain, a C-130 flight commander, in 2010. "Right now, [those flights] use these jet-assisted take-off bottles to help them take off."
The LC-130 Snowbird is a standard C-130 modified for use in polar regions.
Brigadier General Denise Donnell, an LC-130 pilot and commander of the New York Air National Guard – which is responsible for Arctic resupply – told FlightGlobal in April that improved thrust from the NP2000s largely eliminates the need for the external rocket system.
Chile is among nations that operate in the Antarctic, where transports land and take-off on snow runways using ski attachments over their landing gear. Such take-offs create more friction than traditional wheels-on-tarmac, necessitating longer runways and more power.
Donnell told FlightGlobal about one LC-130 take-off that anecdotally took five miles to achieve lift.
In addition to being installed on USAF LC-130s, the service has also been retrofitting older C-130Hs with the improved NP2000 propeller system.
While Chile is the first international customer to adopt the technology for C-130s, Collins says NP2000s are in use by other international customers aboard the Northrop Grumman E-2 Hawkeye airborne early warning and control aircraft, and the US Navy's Northrop C-2 Greyhound carrier-resupply turboprop.
The NP2000 is also planned for use on Lockheed's P-3 Orion maritime patrol aircraft.