Canadian airframer Bombardier is increasing its calls for Ottawa to initiate a competition in the procurement of a new Royal Canadian Air Force (RCAF) maritime patrol aircraft.
The Canadian Multi-Mission Aircraft (CMMA) programme aims to deliver a replacement for the RCAF's fleet of 15 CP-140 Aurora turboprops – the local designation for the Lockheed Martin P-3 Orion anti-submarine warfare platform.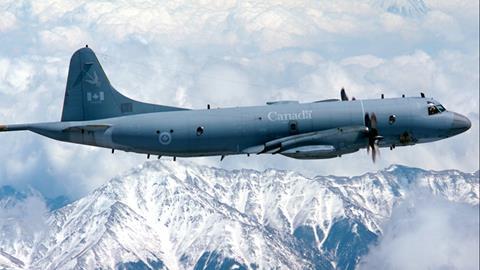 Montreal-headquartered Bombardier, in collaboration with the Canadian subsidiary of General Dynamics, is putting forward a militarised version of Bombardier's Global 6500 business jet for the CMMA contract.
"We are very clearly identifying today: this is a viable, deliverable option to meet CMMA high-level mission requirements," says Steve Patrick, vice-president of Bombardier Defense. Patrick spoke at the CANSEC defence conference in Ottawa on 31 May.
Bombardier's calls for a competitive CMMA selection process come just three months after Ottawa indicated it would opt to purchase the Boeing P-8 Poseidon as the RCAF's next maritime patrol jet.
Canada announced the CMMA initiative in February 2022, noting its fleet of 15 CP-140s had been procured in 1980 and are scheduled for retirement in 2030. In March 2023, the Canadian government announced it had only received a single proposal that met the CMMA requirements – Boeing's P-8 Poseidon.
"Following engagements with industry and Canada's closest allies, the government has determined that the P-8A Poseidon is the only currently available aircraft that meets all of the CMMA operational requirements, namely anti-submarine warfare and [ISR]," the Public Services and Procurement Canada (PSPC) agency said.
Sensing an opportunity for a domestic supplier, Bombardier moved to develop its own proposal. On 18 May, the airframer announced it would team with General Dynamics Mission Systems-Canada to produce a viable CMMA platform, entirely in Canada.
"The platforms are made in Canada and will be modified and will be delivered in Canada," Patrick says.
By contrast, Boeing produces the P-8 in the USA's Washington state. Under Canada's Industrial and Technological Benefits policy, certain large defence contracts are required to support the creation of local jobs and economic activity.
Boeing on 30 May said its CMMA enterprise will create "nearly 3,000 jobs and $358 million in economic output to Canada". Those figures were produced by independent economists at Ottawa-based Doyletech Corporation, according to Boeing.
"[Boeing] is committed to deliver industrial and technological benefits on the P-8 programme, significantly growing Canada's aerospace and defence industry," the company says.
Ottawa has yet to make a formal decision on its CMMA procurement, either to purchase the P-8 or hold a formal competition. However, Bombardier is now directly calling for such a contest.
"What we now need to hear from government is a request for proposal including specific performance parameters and objectives," says Patrick.
In addition to meeting all the CMMA performance requirements previously outlined by Ottawa, Bombardier says its Global 6500-based offering will provide Canada with a potential export product for the maritime patrol market.
"We see an export potential of 80 aircraft currently identified around the world," Patrick says.
Against Bombardier's argument for the benefits of new domestically produced aircraft, is Boeing's fully operational P-8 production line, and the type's proven service record with multiple Canadian allies.
There are currently 160 P-8s already in service around the world, according to Boeing, including with the USA, UK, Australia and India. South Korea, Norway, Germany and New Zealand also plan to acquire the Poseidon.
"In strong collaboration with our Canadian industry P-8 partners and our extensive supply chain in-country, we appreciate the opportunity to build upon our more than 100-year relationship with Canada and grow our Canadian partnerships and investments," says Ted Colbert, chief executive of Boeing's defence unit.
Bombardier does not appear deterred by Boeing's head start. Vice-president of defence Jean-Christopher Gallagher says he is confident the company's Global 6500 CMMA design will outperform the 737NG-based P-8.
"What we want to see here… is a competition fair and square," Gallagher says. "We're going to be able to show that our platform not only burns 30% less fuel, it flies further, faster, higher… and it does it better than the American aircraft."
Data from Bombardier's website indicates the commercial Global 6500 has a range of 6,660nm (12,200km) and a top speed of Mach 0.9 (600kt).
According to Boeing figures, the P-8 boasts a range of 1,200nm, plus four hours of loitering time, and a top speed of M0.79.
Boeing says its military-ready P-8 jet has a service ceiling of 41,000ft, while Bombardier lists a ceiling of 51,000ft for the business jet version of the Global 6500.
Canada eventually plans to acquire up to 16 of the CMMA type.