The government of the Czech Republic has publicly stated its interest in acquiring Lockheed Martin F-35 Lightning II fighters.
Prague said on 20 July it has begun discussions with the USA about acquiring the advanced fifth-generation jet to replace the Czech air force's fleet of leased Saab Gripen C/D fighters.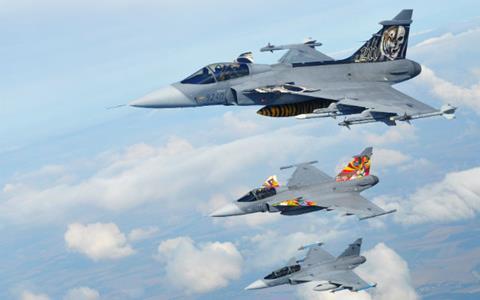 "Our decision to select this option is based on the analysis by the Czech armed forces, which clearly articulates that only the most-advanced fifth-generation fighters will be able to meet mission requirements in future battlefields," says Czech defence minister Jana Cernochova.
He describes the moment as a "crucial day".
The Czech government says it would like to purchase 24 F-35s, nearly double its 14 older Gripens.
The F-35 was chosen over another Lockheed offering, the F-16 Fighting Falcon, and Saab's new Gripen E/F variant. The Czech government's notice of its intent describes those alternatives as fourth-plus-generation fighters that "will have become obsolete" by 2040.
"We must not hesitate, because the lead times take years," says Cernochova of moving forward with F-35 acquisitions.
It typically takes around three years from the signing of a contract for a customer's first F-35 airframes becoming available, according to a Lockheed Martin representative who spoke to FlightGlobal at the Farnborough air show in the UK this week.
Included in that rollout is pilot training, which takes place in the USA. Lockheed notes that adequate support facilities for the combat aircraft also need to be established in the purchasing country's territory, which can further extend timelines.
The Czech Republic joins a growing list of NATO members who have selected the single-engined F-35 to serve as their aerial vanguard in the 21st Century. Canada, Finland, Germany and Switzerland have all made similar decisions in recent months.
The stealthy strike fighter is already operated by allies around the world, including Australia, Israel, Japan, the UK and the USA.
Lockheed and the US government said on 19 July they reached a "handshake agreement" for the Pentagon to purchase an additional 375 F-35s, which are operated by the US Air Force, US Navy and US Marine Corps.