Paris has tapped Dassault and Thales to provide three signals intelligence (SIGINT) aircraft based on the Falcon 8X business jet under its ARCHANGE requirement.
The project will see the Thales CUGE system installed on two aircraft initially, with a third to follow, say the two companies.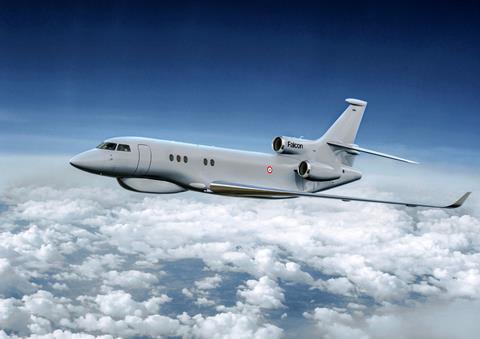 The French Armament General Directorate (DGA) awarded the contract 30 December, with the company statements following on 14 January.
An image issued by Dassault shows the CUGE system housed in a canoe fairing under the jet's forward fuselage.
"The contract covers the first two aircraft on the programme," says Thales. "CUGE will ultimately be deployed by three Falcon X aircraft, built by Dassault Aviation, to replace the two Transall C-160 Gabriel aircraft in service with the French Air Force from 2025."
It notes that the future battlefield will be ever more complex, requiring surveillance systems that allow decisions to be made quickly. It adds that CUGE allows the simultaneous detection and analysis of radio and radar signals, using the company's "multi-polarisation" antennas supported by artificial intelligence.
A ground-based training platform is included with the programme.
"The special mission Falcons provide the perfect illustration of the dual competences of Dassault Aviation: our civil aircraft benefit from the cutting-edge technologies developed for our combat aircraft, which in return benefit from the industrial processes deployed for the highly competitive production of the Falcon aircraft," says Eric Trappier, chairman and chief executive of Dassault Aviation.