Lockheed Martin F-16 fighters belonging to the Netherlands have arrived at a European training centre in Romania, where Ukrainian air force (UAF) pilots will receive instruction on the multi-role combat aircraft.
Amsterdam on 7 November confirmed the initial transfer of five jets from the Royal Netherlands Air Force (RNLAF), including both single-seat F-16As and two-seat F-16Bs.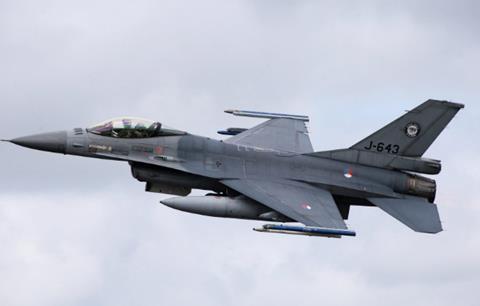 "Five Dutch F-16 fighter jets are currently on their way to the European F-16 training centre (EFTC) in Romania," the Dutch defence ministry says. "The aircraft are intended to train Romanian and Ukrainian pilots."
Dutch defence minister Kajsa Ollongren on 7 November said the aircraft will go to Fetesti air base in Romania. The Netherlands plans to provide between 12 and 18 F-16s to the EFTC, while maintaining ownership of the single-engined fighters.
F-16 producer Lockheed in August announced its support for the EFTC, which the US-based company said will offer an "affordable [and] efficient" sequence of ground-based and flight training missions.
Ollongren says the centre to "train pilots from both NATO countries and Ukraine will open soon".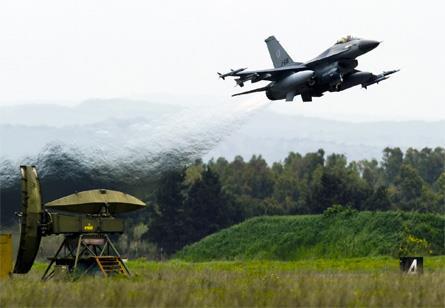 NATO secretary general Jens Stoltenberg praised the milestone during remarks in Brussels on 8 November.
"I welcome that the first F-16 jets for Ukraine, donated by the Netherlands, have arrived at a training centre in Romania yesterday," the former Norwegian prime minister says.
"President Putin thinks he can outlast our support for Ukraine. We must continue to prove him wrong. This is vital for Ukraine, and it is also in our own security interest," adds Stoltenberg, who has held the role of NATO chief for nine years.
The Netherlands was an early supporter of a campaign by the Ukrainian government seeking the donation of F-16s from its Western backers in NATO. Commitments by the Netherlands and Denmark to provide fighters and training services to the UAF convinced Washington to approve such a programme.
Denmark is a partner in the initiative, with additional commitments to equip Ukraine with F-16s from its fleet.
Although the RNLAF F-16s in Romania will initially remain the property of the Dutch government, Amsterdam has pledged to provide Ukraine with jets from its fleet, following the completion of flight and maintainer training.
A separate training programme for UAF personnel is currently underway in the USA.