The US Navy's Northrop Grumman E-2D Hawkeye airborne early warning and control aircraft is to get an extensive cockpit refurbishment, including the addition of head-up displays (HUDs).
The US Naval Air Systems Command (NAVAIR) says it has awarded Northrop Grumman Aerospace Systems $34 million for the requirements phase of the Hawkeye Cockpit Technical Refresh (HECTR) programme.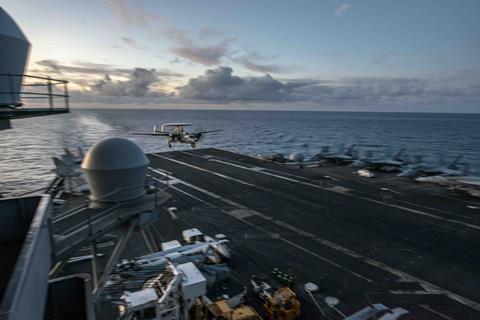 The work will see a complete redesign of the aircraft's Integration Navigation, Controls and Display Systems (INCDS), and will better integrate the "cockpit solution into the weapon system".
"For decades, we have improved the weapon system of the Advanced Hawkeye, but the cockpit has remained largely unchanged," says USN Captain Michael France. "HECTR solves some of our obsolescence issues and brings new navigation and communication capability."
The aircraft's existing cockpit includes many of the aircraft's "top readiness degraders", in addition to obsolete components, says NAVAIR.
The improved cockpit will make it safer for air crew to operate longer missions, especially since the E-2D sees the addition of an air-to-air refuelling capability, boosting endurance.
NAVAIR also notes that the E-2D is the service's only fixed-wing carrier-based aircraft that lacks a HUD. A HUD will allow pilots to keep their eyes focused outside the cockpit when approaching an aircraft carrier.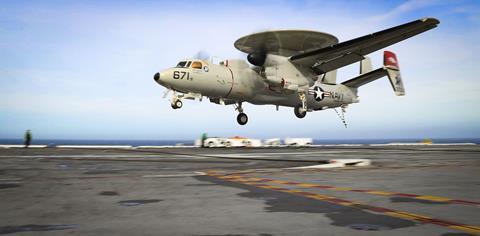 "HECTR will integrate a HUD capability to reduce the E-2D pilot workload, as well as improve situational awareness and correct current INCDS human machine interface deficiencies," says NAVAIR.
"The HUD will increase safety and decrease pilot workload for generations of Hawkeye pilots by providing horizon reference and increased visual scan speed for carrier landings, which will be especially beneficial at night and during adverse weather conditions."
The existing contract runs until January 2022, with HECTR to be fielded in fiscal year 2027.