Embraer's C-390 Millennium transport is one step closer to achieving certification for the performance of firefighting missions.
The Brazilian airframer on 5 September said that it had completed the flight testing portion of the certification campaign for the C-390 equipped with the Modular Airborne Fire Fighting System (MAFFS) II payload. After certification, the firefighting capability will be available to operators of the twin-engined transport.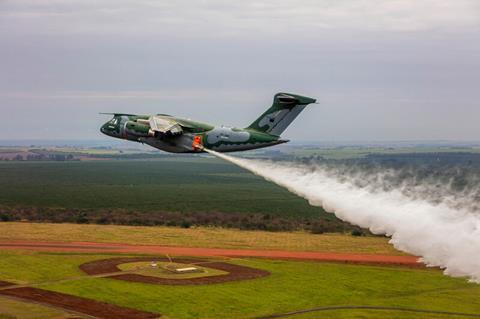 In addition to the standard transport variant, the airframe is also available in an aerial refuelling configuration known as the KC-390.
Embraer states that following the receipt of certification from Brazil's IFI military certification authority, "the firefighting capability will be available to the aircraft's operators". The company has so far secured firm orders for a combined 34 C/KC-390s, from Brazil (22), Hungary (2), the Netherlands (5) and Portugal (5).
The USA-made MAFFS II system allows for the air transport and dispersal of some 11,300 litres (3,000gal) of water, both with and without fire retardant. Embraer says the firefighting equipment is designed to integrate with the C-390's onboard cargo handling system. Water is dispensed from an exterior-mounted nozzle on the rear fuselage.
The Sao Paolo aerospace manufacturer says the roll-on, roll-off MAFFS II operates using only aircraft power and can be installed with its own included equipment.
The recent flight tests, which included multiple in-flight water-drops, were conducted at Embraer's facility in Gaviao Peixoto, outside of Sao Paolo. The company says the MAFFS II integrated into the C-390's systems without incident and demonstrated "excellent aspects of flight quality and manoeuvrability".
Water tankers flying firefighting missions are often required to approach a target at low speed and low altitude, sometimes just over the tops of trees.