Embraer sees the potential to eventually resume development of a hybrid-electric short take-off aircraft despite the project stalling due to Brazilian government funding issues.
"We intend to [resume] as the conditions allow, even with different partners," Embraer Defense & Security chief executive Jackson Schneider told reporters last week. "It's suspended… It is not interrupted for good."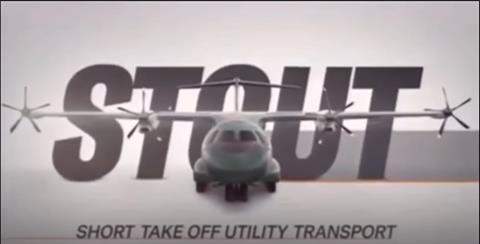 Embraer in November 2020 revealed it was studying potential development of a hybrid-electric aircraft called STOUT – an acronym for Short Take-off Utility Transport. The airframer also envisioned a civilian variant.
Embraer said it had signed an agreement with the Brazilian air force to study the concept, which was conceived as a replacement for Brazil's EMB-110 Bandeirantes (designated C-95As) and EMB-120 Brasilias (designated C-97s).
Embraer conceived the aircraft as having a high wing with four wing-mounted props, according to a video, purportedly from the Brazilian air force, posted by several medial outlets. Turboprops would drive the two inboard props and power electric motors to drive props at the end of each wing.
The aircraft would have 1,310nm (2,420km) of range, maximum payload of 3,000kg (6,614lb) and capability to carry 24 paratroopers or soldiers, the video said.
Embraer's Schneider now confirms the Brazilian government recently shelved further development due to "budget constraints". Without new contracts, Embraer is not yet progressing to next development stages, which would involve developing the aircraft and its production system, Schneider adds.
Budget issues also led Brazil this year to trim its number of orders for Embraer's KC-390 medium-lift transport aircraft from 28 to 22.
But Schneider says Embraer hopes to reboot STOUT development, and that Embraer's initial studies proved valuable. Those studies involved analysis of potential designs, including of the proposed aircraft's hybrid-electric propulsion system.
Schneider stressed Embraer likely needs "different potential partners" to advance the project, saying new partners would eliminate the effort's reliance on the budget-strapped Brazilian military.
Story corrected on 10 June to note that STOUT's payload would be 3,000kg.