Recent geopolitical events, including Russia's invasion of Ukraine, are driving renewed interest from Western governments in Embraer's C-390 military airlifter.
That is according to Embraer Defense & Security chief executive Jackson Schneider, who says countries in Europe and elsewhere are increasingly interested in replacing decades-old military cargo aircraft.
"Many countries in the world… realise that their logistics systems are very old and need to be replaced," Schneider recently told reporters. "They need to replace [those systems] as soon as possible."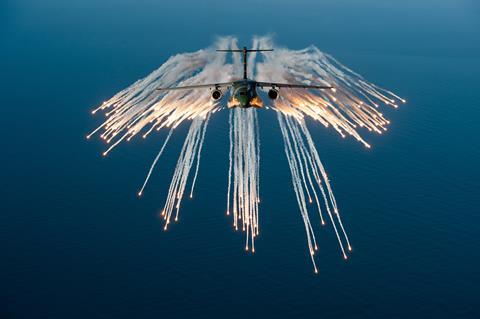 He adds that Embraer has recently been engaged in "intense" C-390 sales campaigns, including with countries the airframer had not previously targeted as potential buyers.
Schneider attributes the bump in demand to several factors, including the USA's 2021 exit from Afghanistan. That event prompted US partners – notably those in Europe – to likewise pull forces from the country. It also prompted a broad exodus of Afghan refugees, Schneider notes.
The effort relied entirely on aircraft, including military lifters and commercial charters.
"The Afghanistan withdrawal of troops and refugees… called attention for European countries… that their logistics systems are not up to date," says Schneider.
Then came Russia's February invasion of Ukraine, which further highlighted the need by European countries to update ageing military assets. That event is significantly driving up Western military spending, Schneider adds.
"The world will not be the same after the Russian-and-Ukrainian war," Schneider says. "It initiated, or reinforced, strong interest" in the C-390.
Schneider also says such factors bode well for additional sales of Embraer's single-engined Super Tucano – specifically, those examples used for pilot training.
Embraer launched the C-390 in 2009 with an order from the Brazilian air force for the KC-390 variant.
Powered by twin International Aero Engines V2500s, the jet can carry payloads weighing up to 26,000kg (57,320lb) and, when fully loaded, has 1,080nm (2,000km) of range, according to Embraer.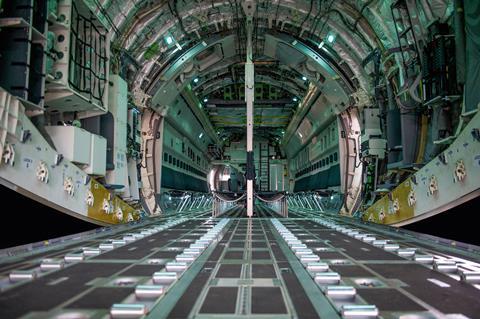 The airframer pitches C-390s as capable of fulfilling a variety of missions, including aerial assault and resupply, medical evacuation, search and rescue, and air-to-air refuelling.
In February, news broke that Brazil's air force had cut its number of KC-390 orders from 28 to 22, a result of budget constraints. Embraer also holds orders from Portugal for five of the aircraft, and from Hungary for two.
Schneider sees significantly greater demand, noting that the global fleet of medium-weight military airlifters stands at about 1,500 aircraft. Those – many of which are variants of Lockheed Martin's venerable four-engined C-130 – have an average age of more than 30 years.
"These planes will have to be replaced," Schneider says.