Brazilian airframer Embraer has unveiled a new version of its A-29 Super Tucano light attack aircraft, designed with NATO members in mind.
Embraer said on 12 April the new version of the turboprop will be designated the A-29N, and will include NATO-required features such as single-pilot operation and a tactical datalink. The reveal was made at the LAAD defence and security conference in Rio de Janeiro.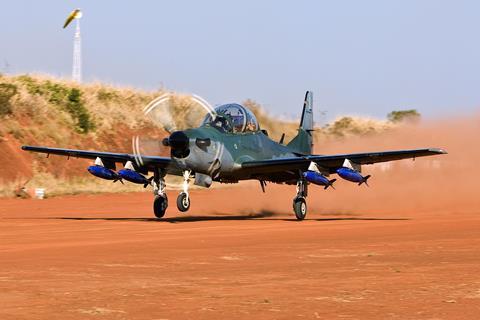 The company says the new A-29N will increase the Super Tucano's potential uses, including for Joint Terminal Attack Controller air support training missions.
"This is a new stage in the operational life of the A-29 Super Tucano," says Bosco da Costa, chief executive of Embraer Defense and Security. "Several European countries have shown interest in specific aircraft capabilities that we have now introduced with this version."
Embraer notes the A-29 is currently in service with 15 air forces around the world, with some 260 airframes delivered.
The single-engined turboprop is used in a variety of roles, including light attack, aerial surveillance and counterinsurgency support. Embraer describes the A-29 as "rugged and versatile", capable of operating from remote or unpaved runways with minimal maintenance support.
"The A-29 has the flexibility to provide air forces with a single platform for light attack, armed reconnaissance, close air support, and advanced training, thus optimising their fleets," Embraer says.
Just how many, if any, orders there will be from Europe remains unclear. With the resurgence of high-intensity conflict on the continent, most members of the western military bloc have been pursuing the acquisition of advanced, high-performance jet fighters, such as the Lockheed Martin F-35 and F-16.
In a recent interview, the Polish government's consul general in New York told FlightGlobal that Warsaw's top defence priority is acquiring advanced fighter aircraft – specifically the F-35 and Korea Aerospace Industries FA-50 light fighter.
While well suited to the close air support role in counterinsurgency conflicts such as the wars in Iraq and Afghanistan, the Super Tucano would be extremely vulnerable to modern air defence systems and man-portable anti-air missiles.
Such systems have been widely used in the ongoing Russia-Ukraine war, severely limiting the use of unstealthy fourth-generation fighter aircraft, which can fly much faster and higher than the A-29.