The joint USA-Canada North American Aerospace Defense Command (NORAD) scrambled Lockheed Martin F-16 fighters on 4 June to intercept an unresponsive aircraft that had strayed into restricted airspace near Washington, DC.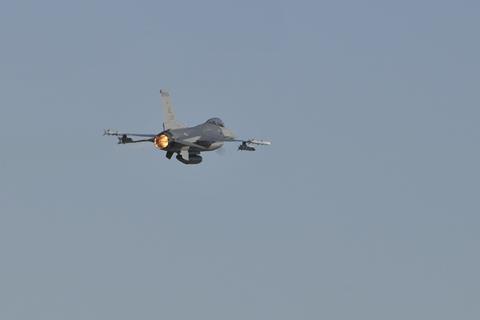 The aircraft was a civilian Cessna 560 Citation V jet, according to NORAD, and was intercepted in the vicinity of the American capital around 15:20 local time.
"The NORAD aircraft were authorised to travel at supersonic speeds and a sonic boom may have been heard," Colorado-based NORAD says.
The action was taken in coordination with civil regulators at the Federal Aviation Administration (FAA), NORAD adds. Government officials say the pilot of Cessna was "unresponsive" to hails and the deployment of flares by the responding F-16s.
"NORAD attempted to establish contact with the pilot until the aircraft ultimately crashed," the command says.
The Cessna jet went down in the rural George Washington National Forest near Montebello, Virginia – some 100 miles (160km) southwest of Washington, DC. The FAA says the crash occurred at around 15:30 local time, roughly 10min after the F-16 intercept.
"The aircraft took off from Elizabethton Municipal airport in Elizabethton, Tennessee, and was bound for Long Island MacArthur airport in New York," the FAA says.
Four people were onboard, according to the regulatory agency. The Virginia State Police located the crash site several hours later and says there were no survivors.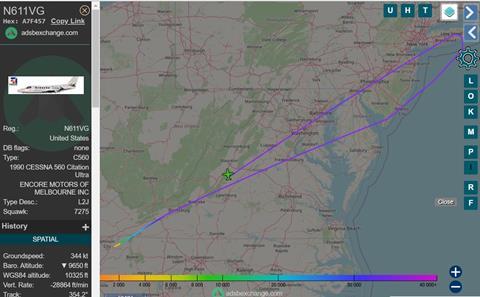 The National Transportation Safety Board (NTSB) is overseeing an investigation into the incident.
Data from flight tracking service ADS-B Exchange shows that a Citation with tail number N611VG originated from Elizabethton on 4 June and travelled northeast, passing over Atlantic City, New Jersey and MacArthur airport on Long Island, before turning southwest. The flight skirted Philadelphia and Baltimore before passing directly over Washington, DC.
The aircraft was registered to a company called Encore Motors in Melbourne, Florida, according to the FAA's aircraft database. The company is owned by Barbara Rumpel, according to a registration on file with the Florida Department of State.
Online news outlet Florida Today describes Rumpel and her husband John as "prominent" members of the west Florida community. In a comment to the digital newspaper, John Rumpel says he has been in contact the FAA and NTSB.
In a statement to The Washington Post, Rumpel says his daughter, granddaughter and a nanny were aboard the Citation when it went down.