Lockheed Martin estimates it will deliver just 97 F-35 Lightning II stealth fighters in 2023, amid ongoing delays in certificating a new flight-control computer.
That represents a substantial decline from 2022, when Lockheed shipped 141 examples of the advanced fighter aircraft; the company delivered 80 F-35s across the first nine months of 2023.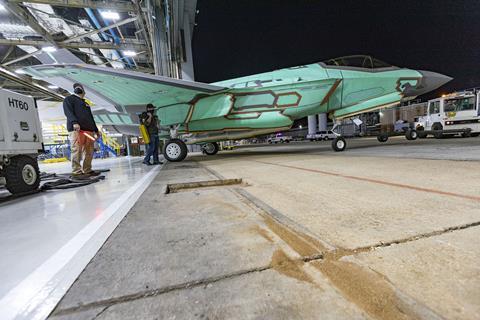 The reduction is not the result of production challenges, however: F-35 production remains in-line with company targets, Lockheed chief executive James Taiclet said on 17 October during a third-quarter earnings call.
"We are producing F-35s at a rate of 156 per year," Taiclet says. "[We] expect to continue at that pace while simultaneously working to finalise TR-3 software development and testing."
Technical Refresh-3, or TR-3, is a series of improvements to the F-35 that include a more powerful on-board computer processor and control software.
The TR-3 improvements are integral to the next production variant of the F-35, known as Block 4, which will deliver significantly increased capability to the fighter's weapons, communications and onboard sensors.
Lockheed has been working to certificate the TR-3 package, with Taiclet in April describing the process as being in the "very late innings".
However, Lockheed in September revealed additional delays in the flight certification process, owing to "unexpected challenges" at sub-contractor L3Harris – which is producing the F-35's new integrated core processor.
The delays in certificating the new package led the Pentagon and at least one overseas customer to declare they would not accept new F-35s in the TR-3 configuration, until the type has received full airworthiness approval.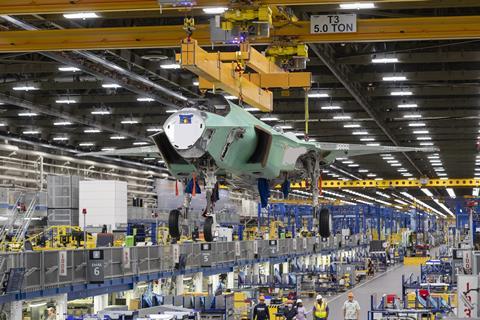 Following that announcement in July, Taiclet estimated Lockheed would deliver between 100 and 125 F-35s by year-end. That figure slipped again to 97 in September, following the developments at L3Harris, and is holding steady, for now.
Taiclet on 17 October confirmed that all 2023 deliveries of the jet will be in the TR-2 configuration.
Lockheed still expects to complete certification of the latest F-35 standard in the first half of 2024, with delivery of the first TR-3 aircraft coming sometime between April and June.
While the slowdown in F-35 deliveries is expected to be a drag on revenue in the short-term, Lockheed executives say other areas of the business remain strong.
"We continue to see strong demand for missiles and munitions," says chief financial officer Jay Malave.
Orders for legacy aircraft, such as the F-16 fighter and Sikorsky UH-60 Black Hawk continue to be strong, particularly from overseas customers.
Lockheed subsidiary Sikorsky is also seeing success with its new-design CH-53K heavy-lift helicopter. The type was approved for full-rate production late in 2022 and Sikorsky in August secured a $2.7 billion order for an additional 35 aircraft for the US Marine Corps and Israel.
Taiclet says Lockheed sees a "a long-term demand environment that is favourable" to the company's current offerings, in addition to future development opportunities.