The Lockheed Martin F-35A has entered operational service with the Republic of Korea Air Force (ROKAF) following a ceremony in the central city of Cheongju, where the nation's 17th fighter wing is based.
According to a report in South Korea's official Yonhap News Agency, no press was invited in order to keep the event low key, so as to not irritate the country's volatile neighbour, North Korea.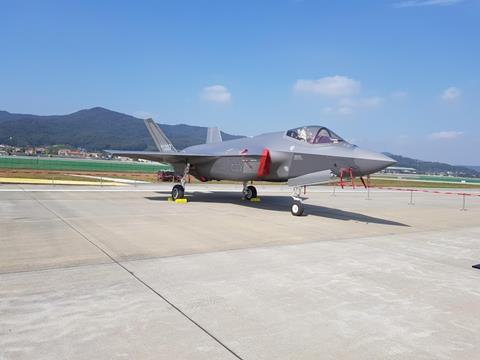 So far, the report adds, South Korea has taken delivery of 13 F-35As out of an order for 40.
In October, Seoul's Defence Acquisition Program Administration earmarked W4 trillion ($3.4 billion) to obtain 20 new fighters from 2021, which is likely to see a follow-on by of the stealthy type.
Speaking at a media briefing prior to Seoul's ADEX show in October, South Korean defence official Lee Sangcheol had this to say about the F-35A's chances in the potential 20-jet deal: "I cannot clearly confirm it yet, but that's the way I think it will unfold. That is my personal opinion."