The first Bombardier E-11 communications jet has arrived at a new US Air Force (USAF) squadron seeking to expand the service's small fleet of the specialised type.
The USAF's 78th Air Base Wing on 11 May said the first E-11A Battlefield Airborne Communications Node (BACN) has arrived at Robins AFB in the US state of Georgia, marking the first time the air force has based the modified business jet on American soil.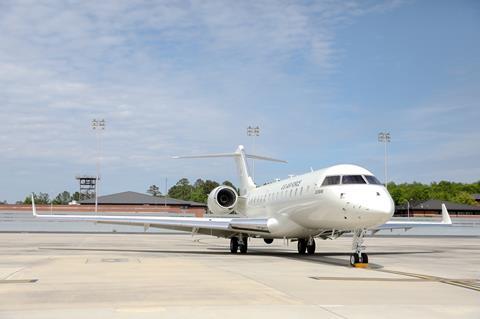 The BACN is based on Bombardier's Global 6000 type, with mission systems integration and sustainment work performed by Northrop Grumman. The E-11 is described by the USAF as "wi-fi in the sky", that provides an airborne relay station to extend communication ranges, bridge different radio frequencies and "translate" between incompatible communications systems.
"We basically extend the range of a lot of communication systems, be they radio or data link, and then we allow people that have different types of radios and data links to be able to communicate with each other that otherwise would not be able to," says Lieutenant Colonel Scott Sevigny, commander of the E-11 mission at Robins AFB.
The BACN platform was created during the multi-decade NATO operation in Afghanistan, where rugged mountains often disrupted radio communications for forces on the ground.
Despite their critical role in resolving that problem, the USAF operated just a small fleet of BACN aircraft during the 20-year war. The service took delivery of its fifth E-11 in January, according to Cirium fleets data.
That fleet operated from Kandahar airfield during the war, before moving to Prince Sultan air base in Saudi Arabia after the USA's 2021 pull-out from Afghanistan. While the USAF will maintain its E-11 presence on the Arabian Peninsula, the service also administratively activated the new E-11 squadron at Robins AFB in February.
The USAF says its aim for the expansion is to "establish a more traditional model with one home station squadron and a deployed squadron", rather than the constant combat service of the recent past.
Unlike with other USAF aircraft, E-11 pilots are not specialised and are instead volunteers drawn from the ranks of other aviation specialities.
"We have fighter pilots, bomber pilots, transport pilots, tanker pilots, special operations pilots, trainer pilots, test pilots," says Lieutenant Colonel Todd Arthur, commander of the BACN squadron in Saudi Arabia.
Although trained heavily on simulators, the USAF says it is typical for a pilot's first actual E-11 flight to be in combat operations, due to the small fleet size.
Under a 2021 contract, the service has the option to procure up to six E-11As.