The US Air Force (USAF) plans in December to reveal its secretive new long-range bomber.
USAF assistant secretary Andrew Hunter, who oversees acquisitions for the service, disclosed the news on 20 September at the Air & Space Forces Association (AFA) conference near Washington DC.
Hunter says the public will get its first look at the B-21 long-range penetrative bomber, which is being designed and produced by Northrop Grumman, during the first week of December.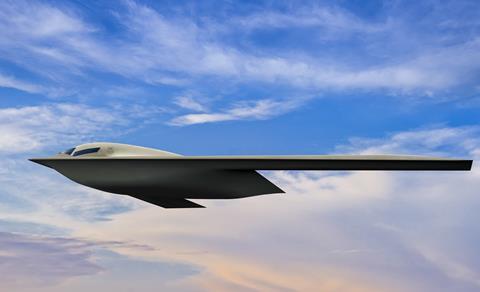 Exact details are still being worked out, but a formal unveiling will be held at Northrop's facility in Palmdale, California. Northrop was awarded a $21.4 billion engineering and design contract for the B-21 in 2015.
The company confirms it has six B-21 airframes in testing and final assembly.
The Raider is intended to replace the B-2 Spirit strategic bomber, also produced by Northrop, which serves as the USAF's long-range penetrating bomber.
A rendering of the B-21, released by Northrop in 2021, depicts an airframe resembling the "flying wing" shape of the stealthy B-2.
Also speaking at the AFA conference on 20 September, Northrop vice-president Thomas Jones noted that while the B-21 may appear outwardly similar, the type represents a substantial upgrade.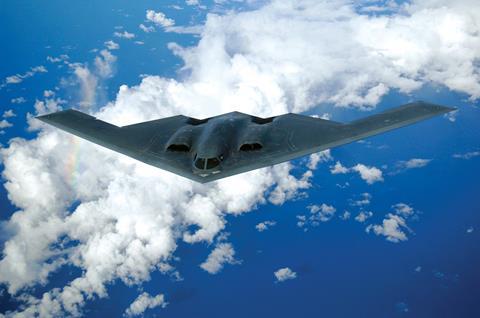 The B-21's real "leap forward" comes from the aircraft's "brain" – a computer system using a modular open architecture system. This will allow for faster and easier modernisation upgrades, to "make sure [the B-21] stays on the cutting edge for decades", Jones says.
The Pentagon has included requirements for open-source operating software for many of its major acquisition programmes, in an attempt to drive down sustainment costs and facilitate rapid fielding of new capabilities.
The US Army's Future Vertical Lift next-generation rotorcraft programme is to incorporate open architecture, and the USAF recently flight tested the first-ever open-source application designed for a fifth-generation fighter.
Jones declines to address details regarding the stealthy aircraft's survivability features. However, he says the B-21 was designed to be a "daily flyer" that can be easily maintained.
"We took lessons learned from the B-2… in maintaining stealth platforms," he says.
The B-2, which carries a price tag of $2.2 billion per airframe, requires costly and labour-intensive regular maintenance to retain its stealthy surface and low-observable profile.
In addition to the B-21, Northrop is also prime contractor on a project to replace the second leg of the USA's so-called "nuclear triad" – the next-generation of intercontinental ballistic missiles known as the Ground Based Strategic Deterrent.