The first example of Boeing's T-7A Red Hawk has arrived at Edwards AFB in California, as Boeing and the US Air Force (USAF) progress through flight testing toward low-rate production of the new jet trainer.
Boeing on 9 November said a T-7A bearing the designation "APT-2" had reached the base north of Los Angeles after a more than 1,200nm (2,250km) trip from its production facility in St Louis, Missouri.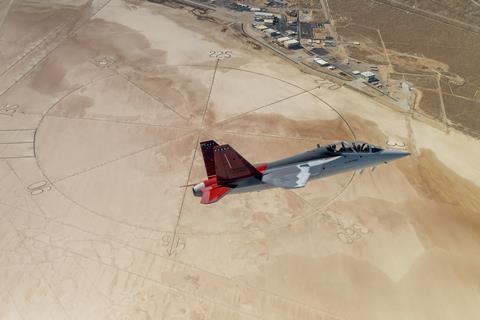 "This is a pivotal moment for the T-7 programme," says Evelyn Moore, T-7 programme manager at Boeing. "Bringing the T-7A Red Hawk to the heart of the US Air Force's test community at Edwards for dynamic flight testing will prove the jet's performance as an agile and safe trainer for future pilots."
Boeing delivered APT-2 to the USAF in September. At the Air, Space & Cyber Conference near Washington DC in September, Boeing officials said the company plans to deliver four more test-model T-7s by year-end, with jets APT-1 and APT-3 next in line.
The company confirmed to FlightGlobal on 9 November that it plans to deliver those two jets this month.
The first flight of APT-2 by a USAF pilot happened in June. However, Boeing pilots have been flying two production representative models of the T-7 for several years under the programme's engineering and design phase.
Moore revealed in September that Boeing has completed more than 500 test flights with the single-engined fighter trainer.
Military pilots have been undergoing T-7 familiarisation training with Boeing in St Louis since the delivery of APT-2. The cross-country delivery flight to California was completed by USAF and Boeing pilots.
The journey included refuelling stops in Oklahoma, New Mexico and Arizona. Boeing says two more Red Hawks, presumably APT-1 and APT-3, will subsequently join the Edwards flight testing regimen.
"Like most test programmes, we'll have discovery and we'll overcome it quickly," says Colonel Kirt Cassell, division chief of the USAF's T-7A programme.
The T-7 flight-test programme will last approximately 12 months, according to Boeing and the USAF, with ground and aerial events at Edwards, Eglin AFB in Florida and the Boeing facility in St Louis. Boeing will oversee maintenance of the five jets during flight testing.
The start of flight testing is a significant milestone for the T-7 programme, which has been plagued by delays and cost overruns. Boeing has absorbed billions of dollars in penalty charges related to engineering and schedule problems.
However, Moore says the company is poised to turn the corner and begin rapidly advancing T-7 production.
Assuming flight testing proceeds smoothly, Boeing plans to begin assembling production-model T-7 airframes in the second quarter of 2024. Its St Louis plant will be capable of producing 60 Red Hawks annually, says Moore.
Boeing aims in the early months of 2025 to complete "Milestone C" – the point at which military equipment manufacturers are approved to begin low-rate initial production of new systems.