The US Air Force (USAF) has retired the first of several Boeing E-3 Sentry airborne warning and control system aircraft the service plans to decommission in the near future.
E-3 tail number 75-0560 landed at the USAF "Boneyard" at Davis-Monthan AFB, Arizona on 6 April. It is the first of 13 E-3s the service now plans to retire this year.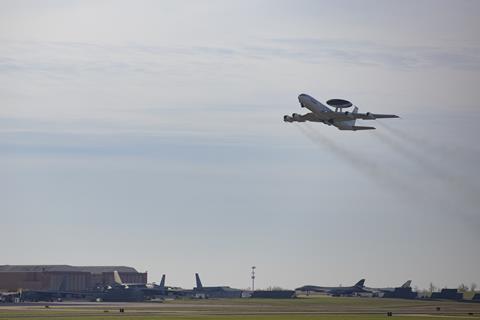 Under the fiscal year 2023 US military budget, Congress authorised the USAF to retire some of the Boeing jets, which are commonly known as AWACS. The approval was contingent upon the service issuing a procurement contract for a replacement to the ageing E-3.
"While some may see the divestment as the end of an era, the retirement of this aircraft marks the beginning of modernisation," says Colonel Kevin Coyle, commander of the 552nd Air Control Wing, which operated the recently retired E-3 airframe.
The move comes a little more than a month after the USAF announced an official deal for the Sentry's replacement: the Boeing E-7 Wedgetail.
In February, the USAF and Boeing signed a $1.2 billion agreement for the first of 26 of the airborne early warning jets. The E-7 is based on Boeing's 737-700 commercial passenger aircraft.
"The Boeing E-7A is the only platform capable of meeting the requirements for the defence department's tactical battle management, command and control and air moving target indicator capabilities," the USAF says.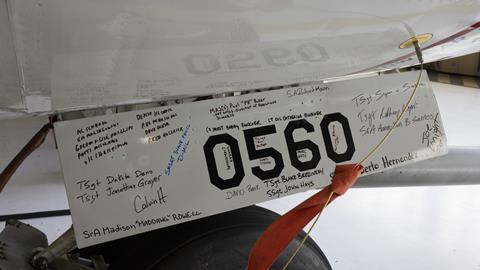 AWACS house powerful radar and communications systems, used to identify enemy aircraft and track the location of friendly assets over a much greater area than individual fighters. Air battle managers aboard the E-3 can then relay that information and direct combat actions of fighters, bombers and tankers.
The service says retiring some E-3s will allow its operational units to "focus on prioritising the health of the remaining fleet".
"Divesting part of the fleet will improve sustainability by adding high demand, low availability parts back into the supply chain, providing a temporary improvement for aircraft availability," the USAF says.
Coyle notes the E-7 acquisition will also improve cohesion between the USAF and allies in the UK Royal Air Force and Royal Australian Air Force, both of which operate the type.
Boeing will begin production on the USA's E-7s in 2025, with the first aircraft fielded in 2027. The service anticipates receiving the full 26-jet fleet by 2032.
USAF acquisition chief Andrew Hunter says the service will continue to modernise its Sentry fleet until that time. "Until the E-7A is fielded, we will continue to rely on the E-3 AWACS," he says.
The E-3 is a derivative of the Boeing 707 passenger jet and has been in service with the USAF since 1977. Before the 6 April retirement, the service operated 31 E-3s.