The first of Denmark's Lockheed Martin F-35 stealth fighters have arrived at their permanent base in the Nordic country.
Four F-35As belonging to the Royal Danish Air Force (RDAF) landed in Denmark on 14 September, according to manufacturer Lockheed Martin. The jets launched from the USA and transited the Atlantic to their new home at Skrydstrup air base in Vojens.
The facility is currently home to RDAF Fighter Wing Skrydstrup, which is comprised of Lockheed F-16s.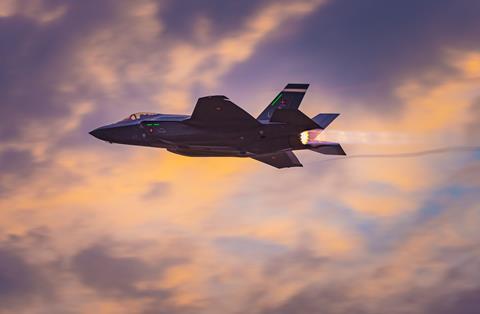 While Lockheed delivered the first Danish F-35s in 2021, new operators of the advanced fifth-generation fighter typically undergo a multi-year instructional programme in the USA for pilots and maintainers before the aircraft are transferred home.
The RDAF's F-35s had been at Luke AFB in Arizona prior to their recent delivery to Denmark, where they were used to train Danish personnel.
"The F-35 is a huge step forward in technology," says Brigadier General Prince Joachim, a member of the Danish royal family and defence industrial attaché to the USA.
"The arrival of the F-35 provides Denmark and the Danish armed forces a beacon to transform the armed forces to fifth-generation," he adds.
With their appearance at Skrydstrup, Denmark becomes the 10th country worldwide to operate the stealthy strike fighter from its home soil. Five US Air Force F-35s temporarily operated from the Southern Jutland air base in March, to help prepare for the arrival of Copenhagen's own jets.
The RDAF's programme of record calls for 27 F-35A aircraft, which the service will fly and maintain. Denmark has received 10 aircraft to date, according to Lockheed, with six of those remaining at Luke AFB to support "international cooperative F-35 training operations".
Denmark was among the earliest supporters of Ukraine's request from NATO for F-16 fighters. Copenhagen volunteered to provide pilot and maintainer training for the Ukrainian air force, and subsequently pledged to provide Kyiv with F-16s from its own fleet.
The move, along with similar action from the Netherlands, spurred a change of policy in Washington, with the USA now supporting an F-16 transfer to Ukraine and committing to host training for Ukrainian crews.

Ryan Finnerty is the Americas defence reporter for FlightGlobal.com and Flight International magazine, covering military aviation and the defence industry. He is a former United States Army officer and previously reported for America's National Public Radio system in New York and Hawaii covering energy, economics and military affairs.
View full Profile