Boeing's defence business continues to battle profitability challenges, led by the low-volume VC-25B presidential aircraft programme.
Chief executive of the aerospace giant David Calhoun on 25 October said fixed-price defence contracts, such as that to produce the VC-25B replacement for the US Air Force's (USAF's) current Air Force One jets, will weigh on the company's profitability until at least 2025.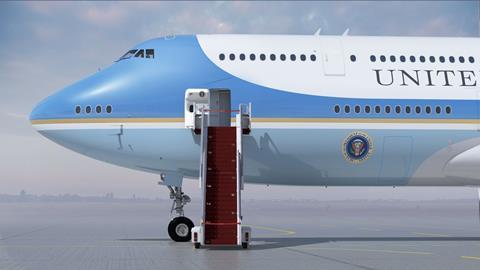 "We still have more work to increase operating performance," Calhoun said of the Boeing Defense, Space & Security (BDS) division during a quarterly earnings call with investors.
The segment posted a $924 million loss in the three months from July to September, driving Boeing to an overall loss of $1.6 billion for the quarter. The company's commercial aircraft business lost $678 million.
Lacklustre performance at BDS was driven by the VC-25B programme, which on its own accounted for $482 million of the segment's negative cash flow. That primarily resulted from higher-than-estimated costs related to engineering changes and "resolution of supplier negotiations", according to Boeing.
Such losses are hardly new for BDS. In the previous decade, Boeing made a risky strategic bet to acquire new military business by bidding with fixed-price contracts.
While giving BDS a price edge over competitors, the approach left the company vulnerable to unforeseen delays and cost increases. Unless fixed-price contracts include economic-adjustment clauses, they generally prevent pricing adjustments and define delivery schedules. If fixed-price vendors fail to meet obligations, the US Department of Defense can levy fines.
"In a fixed-price environment, any hurdles can produce insurmountable costs," Calhoun notes.
BDS also absorbed losses in the latest quarter from its MQ-25 carrier-capable autonomous tanker programme and a satellite-development effort.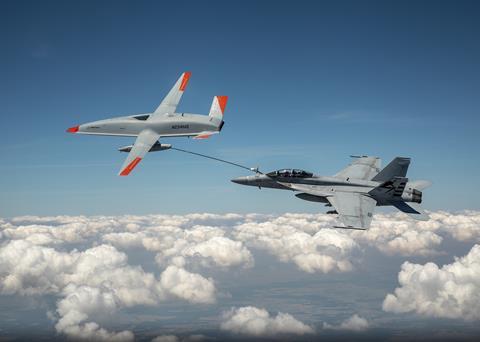 Despite headwinds, Calhoun says BDS has plenty of business, holding a backlog worth $58 billion that includes substantial overseas orders. Many of those overseas orders are for legacy aircraft like AH-64 Apache attack and CH-47 Chinook heavy-lift helicopters. "The demand is there to support our recovery," Calhoun says.
Executives acknowledge progress has not met predictions. "We aren't as far along in this recovery as we expected to be at this stage," chief financial officer Brian West said on 25 October.
He reiterates Boeing's goal of returning BDS to profit margins in the "high single digits", though executives now doubt the company will hit that mark until 2025 or 2026.
But they remain optimistic about revenue potential from several aircraft programmes, including the KC-46 tanker and T-7A jet trainer.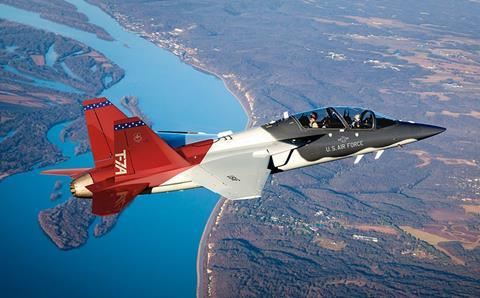 Both programmes have endured substantial delays and cost overruns, along with associated penalty fees in the billions of dollars over several years.
However, with Boeing delivering the first T-7A in September and the USAF poised to acquire up to 75 additional KC-46s, West insists those programmes will become profit engines, saying, "We remain very confident in T-7A and MQ-25 investments".
West also notes Boeing is eschewing fixed-price deals as it negotiates production contracts for new systems moving toward production. This, he says, will correct profit issues, and original fixed-price development agreements will be phased out.
"We haven't signed any fixed-price contracts, nor do we intend to," West says.