Germany hopes to have fully retired its Panavia Tornado combat aircraft in 2030, with the arrival of a successor aircraft to begin in 2025.
Berlin intends to acquire 45 Boeing Super Hornet-family aircraft for the requirement – 30 F/A-18E/Fs, plus 15 EA-18G Growler electronic warfare aircraft – alongside a further 55 Eurofighters.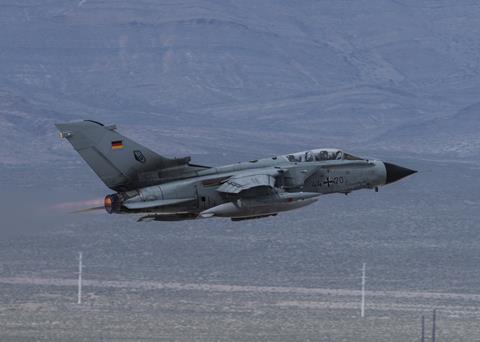 An additional 38 examples of the European-built combat type will be purchased to replace the Luftwaffe's tranche 1 Eurofighters.
While many within Germany had pushed for the acquisition of a single type, certain "special skills" possessed by the Tornado – carriage of US nuclear weapons and electronic warfare equipment – required the split-buy.
"For this purpose, the intention is to purchase 45 F-18 aircraft as a bridge solution for nuclear participation and airborne electronic combat," says the German defence ministry.
While Germany is with France and Spain jointly developing a future combat air system (FCAS), this will not arrive until the 2040s.
"Therefore, there must be a bridge solution based on models available on the market for the time after the Tornado has become useless and before the FCAS is launched," it says.
Although unions have argued that the selection of the US-built fighters would harm development activities and industrial capabilities required for the FCAS, this project "should not be endangered", says the ministry.
"In order to maintain unbroken capability, procurement must start from 2025," it says. "To be able to replace the Tornado in good time, the procurement process must therefore be started now."
The Tornado is "no longer economical and no longer safe to operate" beyond 2030, says defence minister Annegret Kramp-Karrenbauer.
The defence ministry describes the Super Hornets as "already fully developed and available on the armaments market", and says initial talks with the US administration have already been held.
Partner nations "France and Great Britain were also included in the planning", it adds.
Should German defence committee members agree with the acquisition proposals, detailed plans will be presented to the Bundestag "in the next legislative period" in 2022 or "probably" 2023.
"Knowing the established, also parliamentary, processes, we are only at the beginning of a procurement that will take years," says the defence ministry.