Ukraine will soon have a powerful new weapon in the fight to control its skies.
The German government said on 26 April that it has approved the transfer of some 50 Gepard ("Cheetah" in English) anti-aircraft vehicles to the Ukrainian armed forces.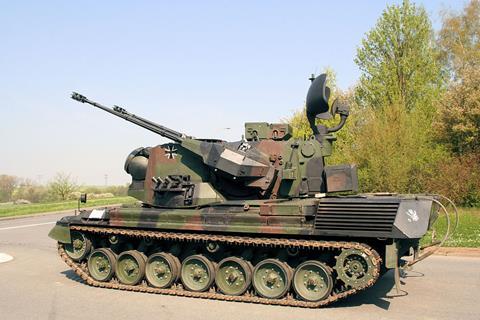 The Gepard is a self-propelled platform, carrying two 35mm canons and an integrated air defence radar mounted on the chassis of a Leopard tank. The system was originally fielded to the Bundeswehr in the 1970s, but is no longer in active service.
"It is important to us to start giving assistance wherever Ukraine finds it necessary," German defence minister Christine Lambrecht says on public broadcaster DW News.
The move marks a seismic shift in policy by the German government, which was initially reluctant to send any lethal aid at all to Ukraine. Under heavy pressure at home to play a more active role in the conflict, Chancellor Olaf Scholz has been increasing material support to the beleaguered nation, including at least 1,000 Panzerfaust-3 anti-tank rockets and hundreds of Raytheon FIM-92 Stinger anti-air missiles.
The decision to now send heavy weapons like the Gepard is one of the strongest showings of support for Ukraine by a Western European country to date.
Western defence leaders from 40 countries are currently meeting with their Ukrainian counterparts at Ramstein air base in Germany to coordinate their ongoing response to Russia's invasion of Ukraine, now entering its third month. That response has taken on a decidedly public tone, with Western officials now openly declaring the latest arms shipments.
Speaking from Germany, US Secretary of Defense Lloyd Austin praised the Gepard transfer, saying he welcomes the decision.
"That's important progress and we're seeing more every day," the former US Army general says. "I applaud all the countries that have risen and are rising to meet this demand."
Air combat weapons have been one of the most-requested assets by Ukrainian leaders as the war drags on. Early requests for air-to-air systems like fighter jets were repeatedly rebuffed by the United States as too provocative toward Russia. Poland previously offered to transfer its entire fleet of Soviet-era RAC MiG-29 Fulcrum fighters to Ukraine, but the deal did not receive American support.
…because the UKR armed forces are clearly leading in the 'conceptual component' of air combat power. They have worked out how to take a massive inferiority in numbers and turn that around by fighting smarter. There are lessons here in Air C2 for all air forces. 4/11

— Edward Stringer🇺🇦 (@edwardstrngr) April 21, 2022
That has led Ukraine to focus its air combat efforts on ground-based platforms like the FIM-92 Stinger missile, S-300 truck-mounted surface-to-air missile system and now the Gepard anti-air tank. The country's air force has received significant material support in more recent weeks, including entire combat jets, and is still flying sorties.
Ukraine's strategy of using flexible, ground-based platforms to deny Russia air superiority has received praise from observers, including Royal Air Force Air Marshal Edward Stringer, who says via Twitter that Ukraine has figured out how to take "a massive inferiority in numbers and turn that around by fighting smarter".
Stringer calls the Russians' failure to achieve air dominance "truly remarkable" given their vast numerical advantage in combat power.
Explanations suggested for that failure include inadequate pilot training, maintenance problems and a shortage of precision-guided munitions. Combined with Ukrainian air defence efforts, the result is that Russian pilots have been far less effective than anticipated at the start of hostilities.
German defence minister Lambrecht says the Gepard is "exactly what Ukraine needs to defend its airspace".
NATO appears poised to further increase its support for Ukraine's armed forces, with secretary Austin calling on the group to redouble their efforts to strengthen the Ukrainian military long-term. He notes in his 26 April remarks those could include working with the defence industrial base to ramp up munitions production.
The Ramstein meeting, officially dubbed the Ukraine Defence Consultative Group, will meet monthly going forward.