India's air force has inducted the first final operational clearance (FOC)-standard Tejas light combat aircraft into squadron service.
The milestone was marked with the air force's 18 Sqn – named the 'Flying Bullets' – at Sulur air base in Tamil Nadu state in southern India on 27 May, says the fighter's manufacturer, Hindustan Aeronautics (HAL).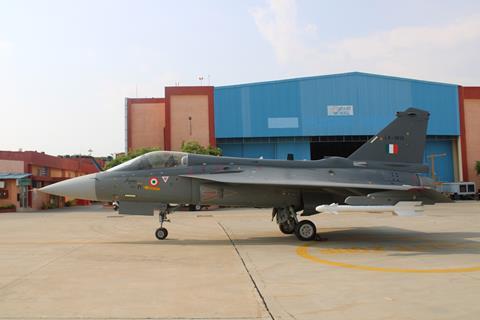 The indigenously developed Tejas formally entered service in an initial operational clearance (IOC) guise in December 2013.
"We are proud to deliver a much more lethal aircraft than the IOC block," says HAL chairman R Madhavan. "The FOC variant additionally comes with air-to-air refuelling, a close combat gun, additional drop tanks, BVR [beyond-visual-range] missile capability, and an updated avionics and flight-control software suite."
HAL – which conducted a first flight with an FOC-version Tejas from its Bengaluru facilities in March – says a further four examples "are in the advanced stages of production and testing, and are expected to join the squadron soon".
"The FOC variant will reduce the maintenance man hours and turn-around time, resulting in enhanced support for Indian air force missions," HAL says.
The company adds that it has already provided training for a first batch of 18 Sqn pilots and maintenance personnel.
Cirium fleets data shows that the Indian air force had 16 Tejas fighters in use prior to the latest delivery. The service has to date ordered 20 examples each in the IOC and FOC standards, while New Delhi also plans to acquire 83 in an improved Mk-1A configuration for around $5.3 billion.