India's first batch of five Dassault Rafale fighters touched down at Ambala Air Force Station on 29 July, advancing the nation's long-planned introduction of the French-built type.
Flown by Indian air force pilots, the combat aircraft departed Dassault's Merignac site on 27 July, with refuelling support provided by a French air force Airbus Defence & Space A330 Phenix multi-role tanker transport.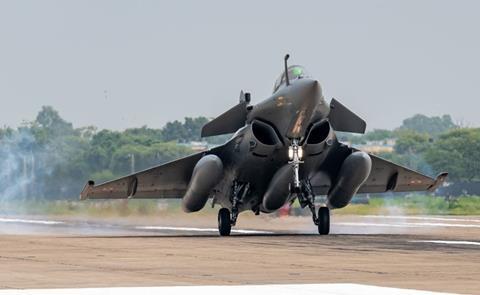 Following a stop at Al Dhafra air base in the United Arab Emirates, the formation arrived in India on 29 July, welcomed by a pair of Sukhoi Su-30MKI fighters.
Images released by the Indian air force show that the first batch comprises three single-seat Rafale C fighters and a pair of two-seat Bs. These are assigned to its 17 Sqn, named the "Golden Arrows".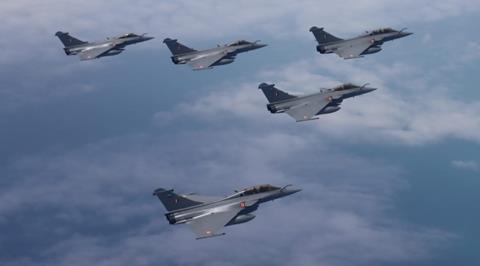 New Delhi's procurement totals 36 aircraft – 28 Cs and eight Bs – with its air force to use the respective local model designations EH and DH.
Prior to the delivery milestone, Dassault said it had supplied "A complete training of Indian pilots and technicians, with French air force participation".
"This first ferry testifies that the programme is running smoothly and that deliveries are on time in spite of [the] Covid-19 pandemic," the company adds.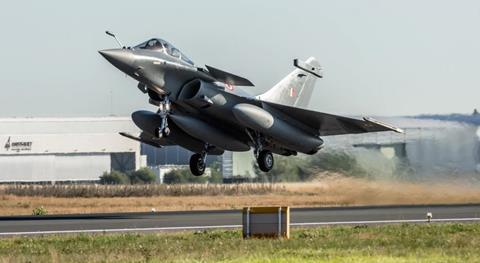 New Delhi ordered its Rafales in 2016, following the collapse of a previous programme to acquire 126 of the type via the medium multi-role combat aircraft procurement.
India will follow the French air force and navy, and previous export customers Egypt and Qatar in introducing the Rafale to operational use.