Defence manufacturer Lockheed Martin has been awarded a $524 million contract for the delivery of 18 F-35 Lightning II fifth-generation fighters to Italy.
The deal was made public in a 9 August contract announcement by the US Department of Defense (DoD), which is acting as an intermediary on the sale.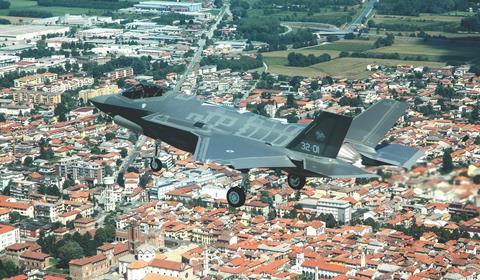 A total of 18 airframes from Lots 15 and 16 are covered by deal with Italy. 14 will be the conventional F-35A version, while four will be the short-take-off-and-vertical-landing F-35B variant.
Italy has a programme of record that covers 90 F-35 airframes, including 60 A and 30 B variants. The 18 aircraft announced on 9 August count toward those totals.
The jet's producer Lockheed says it has already delivered 12 of the advanced single-engined fighters to Italy, which are separate from the tally in most recent sale.
The Italian air force declared initial operating capacity on its fielded F-35s in 2018, according to Lockheed.
Production and delivery of the 18 airframes covered in the contract will be overseen by the US Naval Air Systems Command in Patuxent River, Maryland, outside of Washington, DC. Work will be conducted Texas, California, the UK, Italy and several other locations.
Under the USA's Foreign Military Sales system, the Pentagon often acts a broker for allied and partner countries purchasing US-sourced equipment and services. An agency known as the Defense Security Cooperation Agency, which oversees arms sales, will hold foreign funds in escrow and facilitate the exchange of payment for services.
This arrangement allows foreign military forces to make use of the DoD procurement system, including assistance in negotiating the terms of contract.
Lockheed says contracts for the remainder of Italy's F-35 order are forthcoming.