Japan has opened its regional maintenance base for the Lockheed Martin F-35 fighter.
The first aircraft to receive service at the regional depot will be a Japan Air Self-Defence Force F-35A from Misawa air base, says Tokyo's Acquisition, Technology & Logistics Agency.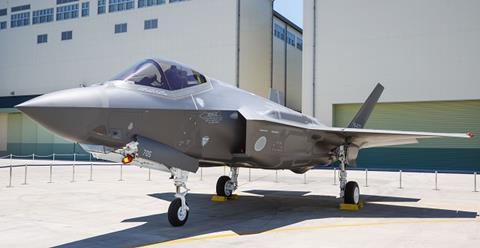 The maintenance base is located at a Mitsubishi Heavy Industries plant in Japan's Aichi prefecture.
In 2014, the US Department of Defense selected Australia and Japan to shoulder heavy airframe and engine maintenance for the F-35 in the Asia-Pacific region.
The two nations were to split responsibility for heavy airframe maintenance, overhaul, repair and upgrade (MORU), with Japan covering the north of the region and Australia the south.
The two nations are destined to rank among the largest operators of the type after the USA. Cirium fleets data shows that Tokyo operates 17 F-35As, with plans to acquire about 129 more – of which 42 will be short take-off and vertical landing F-35Bs.
Australia has 21 F-35As in service, and plans to build a fleet of 72 examples, potentially more.
Given troubled relations between Tokyo and Seoul, it is unlikely that South Korean F-35As will be supported in Japan.
Singapore, which is obtaining 12 F-35Bs, has not said where it will conduct heavy maintenance for its fleet.