Electric air taxi developer Joby Aviation has disclosed a $55 million extension to its Agility Prime contract with the US Air Force (USAF) to deliver and operate up to nine of its yet-to-be-certificated aircraft.
The California-based electric vertical take-off and landing (eVTOL) vehicle maker said on 25 April that the deal – which raises the value of Joby's contract with USAF to $131 million – "underlines the US government's continued commitment to leadership in this new sector".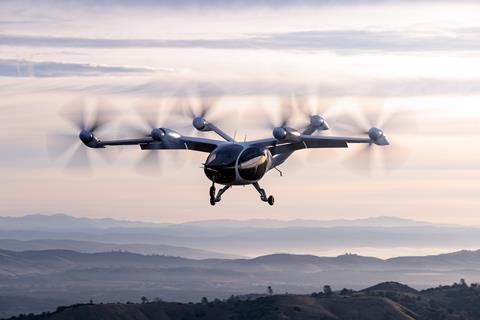 The fleet of eVTOL aircraft will provide "the air force and other federal agencies with first-hand experience of the performance of Joby's aircraft and its potential applications", the start-up says.
The first two aircraft are to be delivered to Edwards Air Force Base in California "by early 2024" and are expected to be the first eVTOL aircraft stationed at a US military base, the company says. The low-noise, five-passenger air­­craft will demonstrate a range of potential use cases for passengers and cargo.
"This next step of getting air force pilots trained and operating Joby aircraft at an air force installation is an incredibly important milestone for the programme, providing key insights to actual operations and use case validation for advanced air mobility aircraft," says Tom Meagher, AFWERX Prime lead.
Four USAF pilots recently became the first military personnel to fly an eVTOL aircraft as sole pilot in command "through the full flight envelope, including transition from vertical to wing borne flight" at Joby's manufacturing facility in Marina, California.
The flights were piloted remotely from the ground following classroom and simulator training, Joby says.
"The Agility Prime programme is a remarkably successful example of how public-private partnerships can deliver trailblazing technology at speed," says JoeBen Bevirt, founder and chief executive of Joby. "We are grateful for the support of the programme and for the US government's wider commitment to global leadership in this important new sector."
Established in 2020, the Agility Prime programme has provided Joby with access to testing facilities and early operational experience for its government customers, in addition to capital.
In August 2022, the US Marine Corps said it would participate in government-directed flight tests and "use case exploration" involving Joby's aircraft, including potential resupply, emergency medical response and personnel transportation applications.
Considered a leader in the eVTOL industry's race to market along with California-based competitor Archer Aviation, Joby is aiming to launch operations in 2025.