Korea Aerospace Industries (KAI) has landed a second deal to produce additional TA-50 lead-in fighter trainers for service with the Republic of Korea Air Force.
The deal, concluded with Seoul's Defense Acquisition Program Administration, is worth around W688 billion ($573 million), says KAI. It also covers support for the aircraft, which are to be delivered by 2024.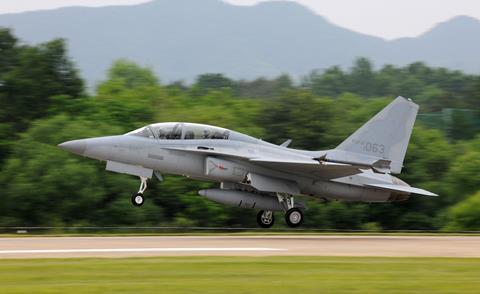 The company does not specify the number of aircraft covered by the agreement, although recent media reports from South Korea quote sources as saying that 20 will be acquired.
Other variants of the TA-50 include the baseline T-50 advanced jet trainer, the FA-50 light-attack jet, and the T-50B aerobatic demonstrator. All variants are powered by the GE Aviation F404 engine, but of the four models only the TA-50 and FA-50 can carry armaments.
The TA-50 is equipped with Elta Systems' EL/M-2032 pulse doppler radar. It can carry a basic array of air-to-air and air-to-surface weapons.
The FA-50 carries the same armament loadout as the TA-50, with the addition of the Boeing Joint Direct Attack Munition and Textron's Sensor Fuzed Weapon.
Cirium fleets data lists 207 T-50-family jets in service globally. Of these, South Korea operates 146, comprising 60 FA-50s, 53 T-50s, 22 TA-50s and 11 T-50Bs.
Indonesia, Iraq, the Philippines and Thailand also operate T-50-family aircraft.