A Boeing KC-46 Pegasus aerial refueller operated by the US Air Force (USAF) successfully completed two sorties without the use of a co-pilot.
The USAF's Air Mobility Command (AMC) said on 28 October that two such flights were executed by the service's 22nd Aerial Refuelling Wing (ARW) at McConnell AFB in Kansas.
"This employment concept allows the KC-46 to complete its primary mission with a reduced crew complement when needed to rapidly launch aircraft with threats inbound or extend long-range operations in the air with offset crews," the 22nd ARW said of the 25 October exercise.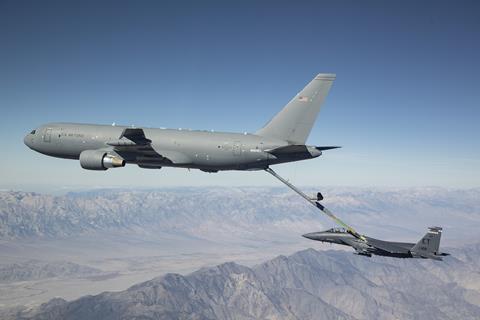 The sorties were completed using only one pilot and a refuelling boom operator, according to the USAF. While the jet only flew a simple pattern on the first flight, the second included a full mission profile, involving a mid-air rendezvous and aerial transfer of fuel.
The boom operator was co-located with the pilot in the Pegasus cockpit, except while performing refuelling tasks. The normal crew compliment for a KC-46, the USAF says, is a pilot, co-pilot and boom operator, with additional troops for long-duration flights.
The exercise is meant to test what the KC-46 can accomplish with a minimal crew, in preparation for potential combat scenarios in which personnel may be unavailable.
"Victory will be delivered on the back of the mobility air forces, and doing so means taking a hard look at every tool we have at our disposal," says General Mike Minihan, commander of the AMC. "The dynamics of the future operating environment require us to think in ways we might not usually think."
Airfields, and strategic assets such tanker aircraft, will represent high-priority targets for enemy attack in a so-called near-peer conflict, meaning those assets and personnel may take casualties.
"In wartime, airfields are static targets, as are any aircraft on the airfield when an attack is inbound," says Colonel Nate Vogel, commander of the 22nd ARW. "But once airborne, the aircraft is a mobile platform capable of manoeuvre and continuing to provide mission capability for the combatant commander."
The KC-46 comes equipped with an advanced visual enhancement camera, known as the Remote Vision System (RVS), to assist boom operators in their duties. However, that system has experienced numerous technical challenges, forcing Boeing to undertake a costly re-design known as RVS2.0.
Despite numerous delays and technical issues, the AMC in September cleared the KC-46 for combat duty worldwide.
The USAF's top civilian administrator Secretary Frank Kendall called the problem-plagued jet's rollout "a very painful experience".