The US senator who leads a committee with approval authority over foreign arms deals "strongly" opposes the USA's planned sale of additional Lockheed Martin F-16 fighters to Turkey.
Senator Bob Menendez, a Democrat from New Jersey and chair of the important Senate Committee on Foreign Relations (SCFR), tells FlightGlobal that, as things stand now, he will not approve such a deal. His opposition stems from the policy record of Turkish President Recep Tayyip Erdogan.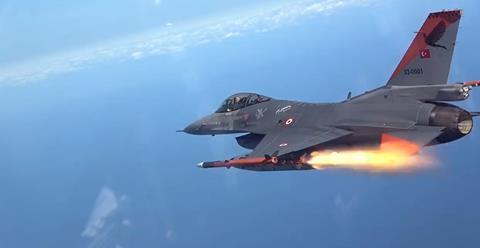 "President Erdogan continues to undermine international law, disregard human rights and democratic norms, and engage in alarming and destabilising behaviour in Turkey and against neighbouring NATO allies," Menendez says.
Erdogan entered office in 2014 as the head of the Islamic Justice and Development Party. Following a failed coup attempt by the army in 2016, he has steadily expanded presidential power, cracked down on dissidence at home and jailed thousands of journalists and political opponents.
Turkey's executive has also deployed increasingly inflammatory rhetoric toward Turkey's Aegean Sea neighbour and fellow NATO member Greece, repeatedly threatening Athens with military action.
"When the time comes, we will do what's necessary," Erdogan said last September. "We may come suddenly one night."
Following a November test of Turkey's Tayfun ballistic missile, Erdogan warned the new platform, with a reported range of about 300nm (556km), is capable of reaching Athens.
The dispute centres on Turkish claims that Greece has stationed military forces on certain Aegean islands, in violation of peace treaties between the countries. Greece and Turkey went to war over territorial disputes following the post-First World War collapse of the Ottoman Empire.
In 2021, Ankara filed a formal request with the US Department of State to purchase 40 of the single-engined F-16s, as well as upgrade kits for a portion of its existing fleet of 243 F-16C/Ds.
Reportedly valued at $20 billion, the deal covers 40 new fighters and 79 upgrade kits. Such a sale requires approval of the state department, the SCFR and the House Committee on Foreign Affairs.
The Department of State says it does not address proposed arms sales until formal notice has been sent to Congress. However, a government official tells FlightGlobal the department has completed its preliminary analysis and will soon begin an informal review of the proposal with legislators.
Menendez will be a key figure in those talks, which will determine whether the F-16 deal moves to the stage of a formal review, complete with public notice. As chair of the SCFR, Menendez sets the committee's agenda, including what resolutions the body will debate.
Thus far, he has been blunt on the deal's prospects.
"Until Erdogan ceases his threats, improves his human rights record at home – including by releasing journalists and political opposition – and begins to act like a trusted ally should, I will not approve this sale," Menendez says.
Also at issue is the entrance into NATO of Finland and Sweden, which Turkey is obstructing. Requests to join the military bloc require unanimous approval from all existing members.
The administration of US President Joe Biden is now increasing pressure on Ankara to approve membership for the Nordic nations.
"The United States urges remaining allies to quickly ratify their accession," the Department of State said on 19 January, following a meeting between secretary of state Antony Blinken and Finnish foreign minister Pekka Haavisto.
An unnamed source cited by The Wall Street Journal on 13 January claims the F-16 sale will be contingent on resolution of the NATO issue.
Indicators are more optimistic for a fighter jet request from Greece, which in 2022 submitted a formal Foreign Military Sales request to Washington DC to purchase 20 Lockheed Martin F-35 stealth fighters.
"Our intention is to acquire an F-35 squadron with a possible option for a second," said Prime Minister Kyriakos Mitsotakis last June. He added that Athens did not expect to receive the fifth-generation aircraft before 2027.
The Hellenic air force operates 153 F-16s, Cirium data shows.
For his part, Menendez struck a much more favourable tone on the Greek request.
"I welcome the news of the sale of new F-35 fighter aircraft to Greece," he says, describing the country as a "trusted NATO ally".
"This defence capability is not only critical… to advance security and stability in the eastern Mediterranean, but also strengthens our two nations' abilities to defend shared principles including our collective defence, democracy, human rights and the rule of law."