Pilatus has contracted Leonardo to supply its RT-700/A V/UHF airborne communications system and other equipment for installation on PC-21 trainers ordered for the Spanish air force.
Announcing the award earlier this month, Leonardo said its contract also includes the provision of cockpit control panels and associated electronics for the turboprop-powered type.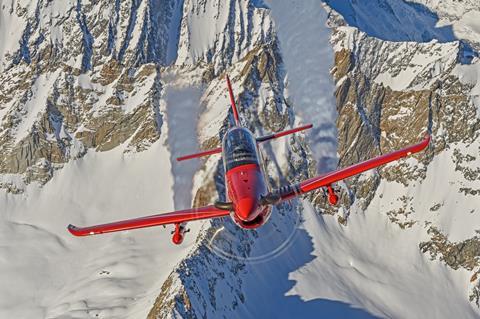 Leonardo says the lightweight RT-700/A is suitable for "voice and data communications, and can transmit and receive securely when connected to an external encryption unit".
Deliveries of Spain's PC-21s are scheduled to commence this year, with the type to enter service in 2021. Madrid is acquiring 24 examples under a €204 million ($222 million) deal to replace its aged CASA C-101 jet trainers.
Leonardo notes that it has previously supplied communications and other equipment for PC-21s ordered by Australia, Qatar, Saudi Arabia, Singapore, Switzerland and the United Arab Emirates.