Italian airframer Leonardo has secured a deal with the US military to upgrade the Pentagon's dwindling fleet of C-27J Spartan tactical transport aircraft.
The Department of Defense (DoD) said on 7 February that Leonardo has been awarded a contract from the US Special Operations Command (SOCOM) worth $91.8 million "to design, modify, integrate and install the 1.2+ avionics update package on the C-27J fixed-wing aircraft".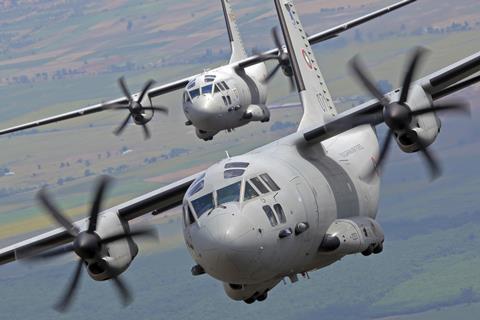 The contract will "replace the ageing avionic package on the C-27J fixed-wing aircraft that has components dating back more than 15 years", the DoD notes.
Currently, the only military operators of the Spartan within the USA are SOCOM, under the umbrella of the US Army, and the US Coast Guard (USCG) – which administratively falls outside the DoD, but is still considered a military service.
Both sets of aircraft will be fitted with the updated avionics package under the contract.
SOCOM operates seven C-27Js, while the USCG has a fleet of 14, which it uses for medium-range surveillance alongside the Airbus HC-144 Ocean Sentry. All 21 of the C-27Js were previously divested by the US Air Force (USAF).
Thirteen of the USCG Spartans had been placed in Type 1000 storage in the USAF "boneyard" at Davis-Monthan AFB, Arizona. The designation means aircraft are stored and maintained in a condition allowing them to be quickly recalled to flight status.
While the conventional USAF shifted away from C-27Js in favour of the larger Lockheed Martin C-130J Hercules and Boeing C-17 Globemaster jet, SOCOM has maintained a small fleet of the Leonardo transports.
"The C-27J aircraft provides US special operations forces with fixed-wing aircraft support," the DoD says.
The USA's special operations troops often employ distinct or non-standard equipment when compared to the country's conventional forces. SOCOM operates its own procurement apparatus, separate from those of the main service components.
The command employs several specialised aircraft not fielded by regular troops, including the Boeing A/MH-6 Little Bird helicopter and the soon-to-be-fielded L3Harris/Air Tractor AT-802U Sky Warden close air support turboprop.
The SOCOM award follows a November 2022 contract with the Royal Australian Air Force to upgrade the radio encryption capability on that service's 10 C-27Js. That deal is worth A$70 million ($45 million) to Leonardo.