Executives at American military airframer Lockheed Martin say a recent move by the Pentagon to stop accepting new F-35 stealth fighters will keep it from hitting delivery expectations and impact 2023 revenue.
Lockheed chief executive Jim Taiclet on 18 July said that while the company is projecting a decline in F-35 deliveries compared to 2022, it still expects to reach longer-term production goals.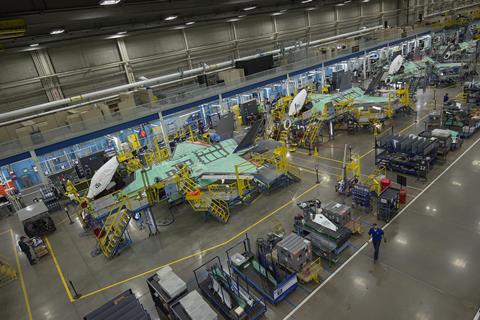 "We expect to deliver 100 to 120 F-35 aircraft in 2023," Taiclet said during the company's second-quarter earnings call. "There is no change to our longer-term delivery outlook of 156 aircraft in 2025."
Lockheed's 2023 F-35 production goal had been, at the start of the year, 147-153 aircraft. In 2022, Lockheed delivered 141 F-35s.
But the Pentagon now says it will stop accepting some F-35s due to delays in certificating a series of hardware and software updates known as "Technical Refresh 3" (TR-3), which involves equipping jets with an airborne data centre capable of operating at 5G speeds. Such improvements will enable weapon, sensor and communications enhancements planned for the forthcoming Block 4 variant of the F-35.
Although airworthiness certification of the upgrade package remains incomplete, Lockheed has already begun producing aircraft with the TR-3 configuration, in the interest of industrial efficiency.
However, the Pentagon has said it will not accept those F-35s yet.
"Starting later this summer, F-35 aircraft coming off the production line with TR-3 hardware will not be accepted until relevant combat capability is validated in accordance with our users' expectations," the Pentagon's F-35 Joint Program Office (JPO) for acquisitions tells FlightGlobal.
The Pentagon first identified the likely delay in TR-3 certification during congressional testimony in March.
The JPO adds that F-35s with the current TR-2 configuration will still be accepted. TR-3 jets will be "securely stored" until validation testing is complete.
Lockheed in April said it plans to roll out TR-3 aircraft under Lot 15 of F-35 production.
The JPO says it remains committed to fielding the TR-3 variant, which "provides the computational horsepower that ensures the F-35 remains superior to potential adversaries for decades to come".
Lockheed has already begun flight testing jets with the TR-3 package, with Taiclet describing the process during a call in April as being in the "very late innings". The Pentagon projects the certification process will not be completed until December at the earliest, but potentially as late as April 2024.
Taiclet confirms Lockheed is targeting December for first delivery of a TR-3 F-35, but acknowledges the milestone could "move a little bit into early 2024".
"We're on track to really get all the dimensions of resources, commitment and schedule to give that option for the December delivery," the CEO says.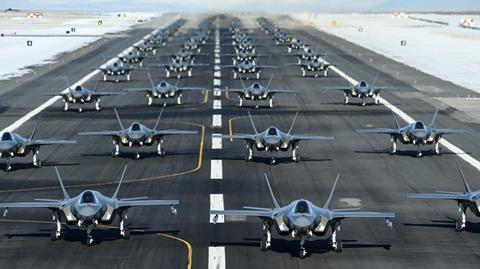 Lockheed is running extra shifts and "deploying subject matter experts" to supplier's facilities to keep the effort on track, he adds.
Chief financial officer Jay Malave says Lockheed will lose approximately $7 million in revenue for each jet that goes into temporary storage while the TR-3 package is certificated, with the total 2023 financial impact coming to $200-300 million. Lockheed is making plans for anywhere from 30 to 100 F-35 deliveries to be impacted.
The company reported sales of $16.7 billion in the second quarter of this year, up 8% year-on-year.
Malave says revenue losses will be temporary, as Lockheed will receive payments when it delivers held-up jets in 2024. The company will offset the 2023 declines by taking advantage of "tailwinds" in other areas of the Lockheed portfolio, he adds.
Precision munitions are a particular bright spot for the aerospace giant, with demand booming across NATO and the Indo-Pacific region following Russia's invasion of Ukraine and increasing bellicosity from China.
Notably, Lockheed says it remains on track to reach its annual production target of 156 F-35s by 2025.
"The supply chain and production systems continue to execute at a rate to support these future delivery targets," Taiclet says.
Production of 156 F-35s is expected to be the upper limit of Lockheed's annual capacity, due largely to output constraints in the production of centre fuselages. Northrop Grumman supplies F-35 fuselages to Lockheed.
However, production capacity could get a boost by the middle of this decade. In February, Lockheed and Northrop announced a partnership with German manufacturer Rheinmetall to produce F-35A centre fuselages in Germany.
Under that agreement, Rheinmetall will build a new facility in Weeze, it said on 3 July. The factory will start fabricating sections in 2025, with an expected production run of at least 400 F-35 fuselages for the air forces of Germany "and other friendly nations".
Berlin plans to acquire 35 of the single-engined fighters for the Luftwaffe.