Despite continued supply chain headwinds and the recent loss of the multi-billion-dollar contract to provide the US Army's next vertical-lift platform, the chief executive of defence heavyweight Lockheed Martin is bullish on the coming year.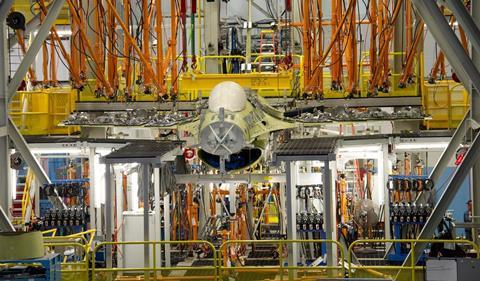 "I think we're in a real strong position at this point," CEO James Taiclet said on 1 June at the annual Bernstein Research Strategic Decisions Conference, citing Washington's plans for military spending in fiscal year 2024.
The recent $886 billion Pentagon budget request from the Biden Administration represents a 3.3% year-on-year defence spending increase.
Taiclet, a former US Air Force pilot, notes that the FY2024 presidential budget request includes funds for 83 Lockheed F-35 stealth fighters, a level slightly exceeding the company's maximise annual production target.
"That's the level we need," Taiclet says. "We don't need to ask for more production aircraft to fill the factory."
Lockheed produced 141 of the advanced single-engined jets in 2022 and aims to churn out 156 F-35s annually by 2025. Taiclet says many of those will come from foreign orders, as US allies such as Poland prepare to receive their first F-35s.
Interest is also surging for another single-engined Lockheed fighter: the F-16 Fighting Falcon.
"You see things in the news about the F-16. It's very relevant," says chief financial officer Jay Malave.
Company officials often refer to the latest Block 70/72 F-16 as a "4.5-generation fighter", citing upgrades that include advanced sensors, software and weapons.
Turkey is seeking to acquire 40 of the type – though so far unsuccessfully. Firm orders have been logged from Eastern Europe, the Middle East and Asia in recent years.
Malave says Lockheed has a backlog of 127 F-16s and expects to take a further 20 orders by year-end. The company is well positioned to meet renewed demand, having in January flown its first Falcon from a new production line in Greenville, South Carolina.
Developments have not all been positive, however. In April, government auditors denied a Lockheed challenge to the US Army's selection of Bell to design its Future Long-Range Assault Aircraft, over a proposal from Lockheed-subsidiary Sikorsky.
The army estimates the deal is worth upwards of $70 billion over several decades. Malave says Lockheed had been expecting about $4 billion in revenue for Sikorsky from the FLRAA contract over the next five years.
While executives are optimistic that overseas sales of Sikorsky UH-60 Black Hawks and the maturing Sikorsky CH-53K heavy-lift programme will soften the blow, Malave says Lockheed has already made up for the revenue loss through higher-than-expected sales of precision munitions. "It's more than offset the impact we had from the FLRAA loss."
Fuelled by the Russia-Ukraine war, demand for rocket artillery and air defence systems has surged in the USA, Europe and Indo-Pacific region. Lockheed's ultra-precise High-Mobility Artillery Rocket System has been lauded for its performance in Ukraine.
The company's PAC-3 interceptor missiles have also proven effective in Ukraine, where they are fired from Raytheon Patriot air defence batteries. Kyiv in May claimed to have shot down a Russian Kinzhal hypersonic missile using a Patriot system.
Malave says Lockheed expects to reap an extra $6 billion in revenue through 2027 from the boom in precision munition sales – $2 billion more than its expectation for FLRAA.
The company also has its own hypersonic-missile development efforts underway, which CEO Taiclet calls "an incredibly challenging technology". The USAF plans to wind down Lockheed's development of the Air-launched Rapid Response Weapon following a failed test of the hypersonic cruise missile in March.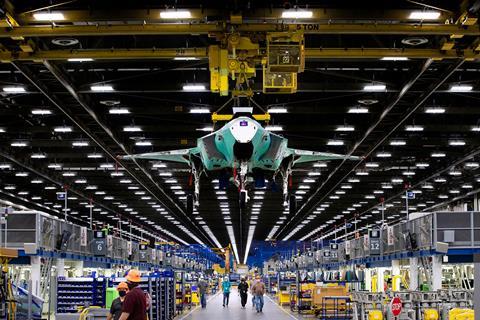 The company is separately under contract for other offensive hypersonic weapons programmes, including the Hypersonic Air-breathing Weapon Concept being developed with the Defense Advanced Research Projects Agency, and the Conventional Prompt Strike boost-glide missile, a joint project with the US Army and Navy.
Unlike ballistic missiles, which have easier-to-predict parabolic trajectories, Taiclet says "true" hypersonic missiles are defined by ability to "manoeuvre at the end of their flight path", in addition to reach speeds of Mach 5 and faster.
"We will continue to do the move-counter-move development of understanding how hypersonic missiles can be manoeuvrable and what we need to do to intercept them," Taiclet says.
Perhaps the greatest opportunity for Lockheed is the USAF's secretive sixth-generation fighter development initiative – the Next-Generation Air Dominance (NGAD) programme.
The service officially began accepting design proposals for the programme in May, in what is expected to be a so-called "family of systems" worth many billions of dollars over several decades.
Although defence industry executives are tight-lipped about participation in the effort, Lockheed, Boeing and Northrop Grumman are all considered contenders.
Lockheed is the only American company building crewed stealth fighters, while Northrop is producing the USAF's next-generation B-21 stealth bomber, which it calls the world's first sixth-generation aircraft.
Boeing is the USA's only other provider of fighter aircraft – with the F-15EX, F/A-18 and EA-18G.
Taiclet notes Lockheed has a long history of success developing combat stealth aircraft, including the fifth-generation F-35 and F-22.
"Our Skunk Works operation is famous for stealth," Taiclet says of Lockheed's secretive technology development unit that produced the world's first stealth aircraft – the F-117 Nighthawk.
"Both the shape of the aircraft – the outer mould line of the aircraft – and the surface coatings and infrared coatings on the engine inlet and tailpipe are really, really critical," the CEO says.
"We invest a lot, and we have the main operations cohorts that can deliver on those technologies," he adds, indicating Lockheed is positioning itself for an NGAD bid.
The USAF is expected to make its choice for the sixth-generation fighter and award an initial development contract in 2024.