Barbs were flying through Le Bourget on 22 June, the last day of the 2023 Paris air show, as engine maker Pratt & Whitney decried an apparent Lockheed Martin endorsement of a new powerplant for the F-35 fighter.
Lockheed vice-president of aeronautics Greg Ulmer reportedly said he supports an entirely redesigned engine for the fifth-generation fighter, based on propulsion systems built from the US Air Force's Adaptive Engine Transition Program (AETP).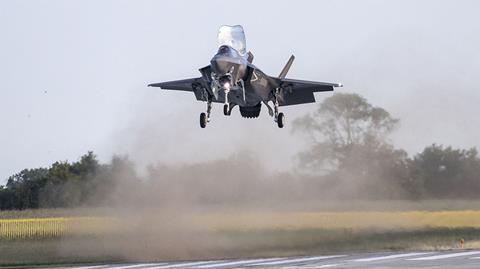 "I'm going to advocate, and I do advocate, for AETP," Ulmer told Breaking Defense in Paris.
"I think some of the approaches today are very short-sighted and not considering a longer-term view," Ulmer is further quoted saying. That appears to be a reference to a proposal by current F-35 propulsion supplier P&W to perform an Engine Core Upgrade (ECU) on the current F135 engine, over a new "adaptive" engine.
The comments from Lockheed come as senior military officials in Washington are making the case to Congress for the less-intensive ECU option to address a deficit of electric power and cooling capacity on the F-35.
The current F135 system is being operated outside of approved specifications for power and cooling generation, resulting in billions of dollars in extra maintenance costs. The problem is expected to worsen as a series of weapon, sensor and communications upgrades known as Block 4 are fielded.
Announcing a preference for AETP engines represents a departure from Lockheed's previous declarations of neutrality on the matter of F-35 propulsion.
P&W, which stands to reap billions in revenue from a fleet-wide ECU installation programme, fired back on 22 June.
"This undermines the Department of Defense decision to move forward with the F135 Engine Core Upgrade, a decision that was studied, validated, submitted and fully funded in the administration's budget," says Jill Albertelli, president of military engines at P&W.
While P&W also developed an AETP engine, the RTX subsidiary has backed the ECU option over its XA101 adaptive engine. P&W says this will address the power and cooling deficit at a lower cost and faster pace.
GE Aerospace is pushing for its XA100 adaptive engine to be adopted as the new powerplant, replacing the F135. In addition to addressing the power and cooling issues, GE says its new engine would offer substantial improvements in thrust and fuel efficiency.
P&W counters that the ECU will be cheaper and quicker to roll out to the fleet. The ECU is also compatible with all three F-35 variants, while AETP engines are incompatible with the F-35B short take-off and vertical landing (STOVL) variant.
While Breaking Defense has characterised the Ulmer endorsement as a win for GE Aerospace, Lockheed disputes the move favours one company.
In a statement to FlightGlobal, Lockheed says it is not endorsing a GE product over a P&W product, noting that both firms developed AETP engines.
"The F-35 will need even greater capability, readiness, range and thrust, which will require an upgraded engine," Lockheed says. "The F-35's service life is projected to be until 2070, which will require future upgrades."
Notably, the Lockheed statement does not explicitly state a preference for an AETP solution. However, it does express the view that AETP engines provide greater benefits than a less-expansive core upgrade.
"We stand ready to support and continue to work with the US government on the capability and performance upgrades that best support their requirements for the F-35 for decades to come – including an engine upgrade," the company says. "AETP technologies deliver more power and greater cooling capability, which is required as we modernise the F-35 beyond Block 4."
A recent report from the US Government Accountability Office found the F-35's current Honeywell power and thermal management system (PTMS) will require separate upgrades to support any onboard system improvements beyond the Block 4 modernisations currently being tested by Lockheed.
P&W dismisses concerns about any theoretical Block 5 upgrades, noting that no such plan exists.
"Despite recent public comments, Block 5 does not exist as a defined set of capabilities at this time," says Albertelli. "The F135 ECU paired with an upgraded PTMS system… will exceed all power and cooling needs for the F-35 through the life of the programme."
P&W is also firing back against Lockheed's claim that an adaptive engine will generate superior performance, calling the systems "untested".
"Lockheed Martin wants to put an unproven adaptive engine on a single-engine fighter jet, regardless of the hefty price tag and the significant delay in delivering critical capabilities," Albertelli says.
The AETP engines went through extensive ground testing during development, but have never flown. The US Navy and US Marine Corps have expressed reluctance to commit to a new engine programme, over concern about cost and feasibility of adapting an AETP system to the STOVL B model and carrier-variant F-35C.
GE has previously stated that its XA100 will be compatible with the F-35A and F-35C. During the Paris air show, P&W's Albertelli suggested the AETP powerplants would not fit in the F-35C airframe, due to the arresting wire tail hook needed for carrier landings.
While the Pentagon, through its fiscal year 2024 budget request, has expressed a preference for the ECU over a full AETP engine replacement, the decision ultimately rests with elected legislators in Congress, who control funding for military projects.