Military airframer Lockheed Martin will receive $18 million to extend the service life of Taiwan's legacy Block 20 F-16 fighters.
The Pentagon on 31 August approved a Foreign Military Sales (FMS) contract on behalf of Taipei for the Taiwan F-16 Block 20 Service Life Extension (SLE) programme, according to a Department of Defense contract announcement.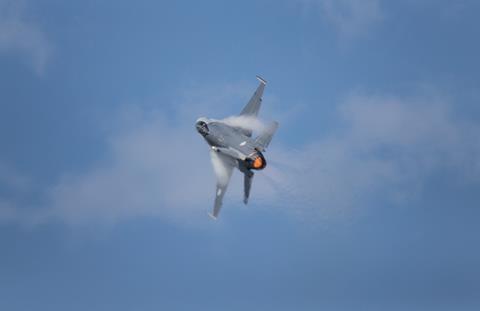 The SLE refurbishment package will restore and strengthen the airframe and wings on Taiwan's ageing F-16A/B Block 20 jets – adding thousands of hours and decades of service life to each of the country's multi-role fighters.
When the US Air Force began SLEs on its F-16C/Ds in 2017, service leaders said aerostructure strength improvements would add 4,000h to each aircraft's service life – increasing that operating threshold to 12,000h, which will keep the jets flying until 2050.
"The programme combines a dozen structural modifications into one repeatable package – from bulkheads to wings and canopy," the USAF said at the time.
The SLE work on Taiwan's F-16s is expected to be complete by December 2024.
Taipei is in the midst of a substantial defence build-up, amid rising tensions with neighbouring China over the future of the self-governing island territory – which Beijing claims as its own.
Taiwan plans to upgrade 141 of its F-16A/Bs to the latest Block 70 standard. The Republic of China air force is also in the process of procuring 66 new F-16Vs from Lockheed, although delivery of these has been delayed.
Washington also recently approved a $500 million purchase request from Taipei for infrared search and track sensors to pair with its fighter fleet.