Lockheed Martin has developed a directed energy weapon capable of being mounted on a fighter jet and turned it over to the US Air Force (USAF).
The US defence manufacturer on 11 July said that in the first quarter of 2022 it turned over its Laser Advancements for Next-generation Compact Environments (LANCE) high-energy laser to the US Air Force Research Laboratory (AFRL).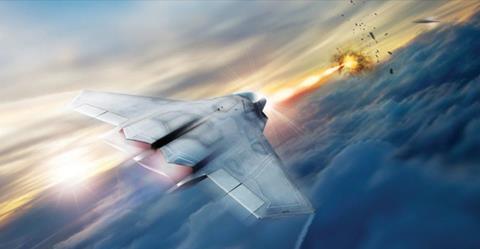 Lockheed says it is continuing to progress along the development roadmap for its directed energy weapons, "which aims to achieve systems in the 5-10kg/kW range in the near future to enable employment on tactical aircraft".
Lockheed was awarded a $26 million AFRL contract in 2017 to develop such a laser that could be mounted on a fighter, as part of the Self-protect High Energy Laser Demonstrator (SHiELD) programme.
The company claims that LANCE is the smallest and lightest high-energy laser of its class ever built.
"LANCE demonstrates our ability to deliver a high energy laser with the power density and ruggedisation to enable a deployable tactical airborne laser weapon that supports future force modernisation for the US Department of Defense," Lockheed says.
The laser itself is meant to be mounted on a tactical jet as an external pod. The ultimate intent for the system is for shooting down incoming tactical weapons, such as air-to-air or surface-to-air missiles.
The original 2017 contract Lockheed received outlined three components of an overall defensive laser system: the pod to power and cool the laser, LANCE itself and a beam control system to target the laser.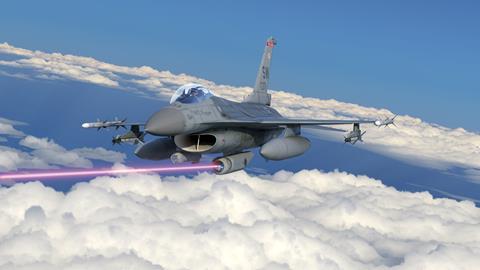 The AFRL's Directed Energy Directorate, based at Kirtland AFB in New Mexico, has been investing heavily in research and development of energy weapons over the past 10 years. The office boasts an annual budget of $355 million, according to the AFRL.
Kelly Hammett, who in June left his job as the head of the directorate after six years in the post, notes in a 13 June statement that during that period his team "built and field-tested 10 new systems that didn't exist before 2016".
Directed energy weapons are often envisaged as defensive, force-protection systems. Lockheed says laser weapon systems are already capable of detecting and tracking small targets including cruise missiles, unmanned air vehicles (UAVs), boats and trucks.
In June 2021, Israel's Ministry of Defense successfully used an airborne laser to shoot down a small UAV made by Elbit Systems.
Earlier that year, an AFRL virtual war game gave control of simulated airborne laser systems to pilots of the Boeing F-15E and Lockheed F-16, as well as the crew of a Boeing E-3 Airborne Warning and Control System.
The goal of the January 2021 exercise was to assess the potential of such laser weapons to accomplish air base air defence and platform protect missions, the AFRL said at the time.