American defence giant Lockheed Martin posted a profit of nearly $2 billion in the first three months of 2022, led by sales of aircraft and helicopters.
The aerospace manufacturer logged $6.4 billion in fixed-wing aircraft sales and $3.5 billion in rotary-wing sales during the first quarter. Combined with sales of missile and space systems, Lockheed generated net quarterly earnings of $1.7 billion.
Sales and profit were less than posted figures from the same period in 2021, which Lockheed blamed on headwinds from the winter surge of the Omicron variant of Covid-19. The company believes overall sales, which came in slightly below expectations during the first quarter, will rebound throughout the remainder of 2022.
Aircraft sales, by far the largest segment of Lockheed's business, had a mixed picture in the first quarter. Sales of F-35 Lightning II Joint Strike Fighters came in below expectations, but those declines were offset by higher than expected sales of F-16 Fighting Falcons. Total aircraft sales were flat compared to the first quarter of 2021.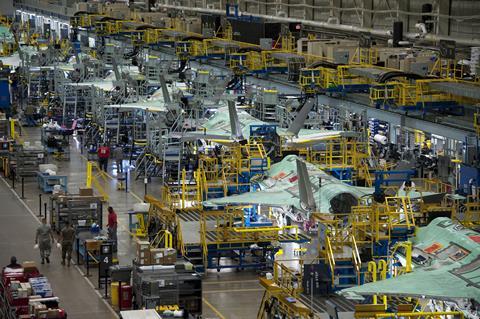 During an earnings call on 19 April, Lockheed executives expressed optimism that F-35 contracts will recover, noting that foreign sales have been encouraging despite headwinds at home.
The Biden administration's fiscal year 2023 defence budget included 17 fewer F-35 variants than the company had been expecting, although the service chiefs did include additional F-35s in their unfunded priorities wish lists.
However, Lockheed notes that sales of F-35s to foreign militaries have been strong. In March, Germany announced plans to purchase 35 of the single-engined fighter. The Royal Canadian Air Force also plans to purchase 88 F-35s. Lockheed says those deals, combined with contracts awarded in 2021 by Switzerland and Finland, could add as many as 223 F-35s to the company's backlog.
Lockheed also says it remains extremely confident in the prospects of its DefiantX co-axial helicopter design to win oart of the US Army's Future Vertical Lift competition. The army is seeking to replace its long-serving utility lift helicopter, the Sikorsky UH-60 Black Hawk.
The DefiantX is being developed by Sikorsky, a Lockheed subsidiary.