Lockheed Martin will likely produce fewer F-35 Lightning II fighter jets in 2023.
That was the consensus of top executives during a quarterly earnings call on 18 October.
"When you look at aero next year, we expect that to probably be in the range of being flat to down slightly," said Lockheed chief executive Jim Taiclet. "That's on the back, really, of lower production volume on the F-35."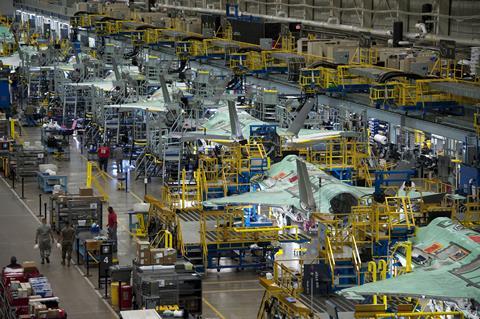 That expected decline counterintuitively comes after a banner year for the F-35 programme. In September, Lockheed inked a production deal with Switzerland, marking the programme's 15th customer.
Throughout 2022, Canada, Germany, Greece and the Czech Republic also declared at least preliminary intent to purchase the fifth-generation aircraft.
Taiclet says Lockheed logged a large number of long-lead procurement deals during 2021 and 2022, describing the coming year as a "period of catch-up".
While international sales appear strong, Lockheed executives say uncertainty at home is driving their lowered expectation for production and deliveries.
"On F-35, the US government has got to… determine what its budget priorities are at the macro level," says Taiclet.
He notes the Department of Defense (DoD) faces multiple, competing priorities for funding, including for nuclear modernisation in the form of a new strategic bomber for the US Air Force and a new ground-based intercontinental ballistic missile system.
Lockheed competitor Northrop Grumman is under contract for both of those programmes: the B-21 Raider and the Ground-Based Strategic Deterrent.
However, Taiclet notes that conventional threats to the USA have increased, giving weight to continued F-35 acquisitions. He says Lockheed would like to reach an annual F-35 production level of 156 tail numbers by 2024.
"It takes about 80 US aircraft to make that happen per year, with another 75 or so coming from international," Taiclet says. "It's going to be up to the US government to try to support that 80 number between the congressional committee processes for authorisation and appropriation," he adds.
Lockheed says it is on track to deliver between 148 and 153 F-35s this year.
Part of the expected production decline stems from lingering supply chain constraints tied to the Covid-19 pandemic. Chief financial officer Jay Malave expects those "headwinds" to persist through 2023, which will affect programmes like the F-35.
"Those should lift by the time we get to 2024," he notes.
The F-35 has been a major driver of financial success for Lockheed over the past year. Taiclet says year-over-year sales in the third quarter increased 8%, driven by the jet's production volume.
Lockheed's profit for the period was up 6%, also the result of more F-35 sales.
The advanced fighter programme may take on even greater financial significance for the company in coming months, pending results of a competitive bid in another segment of Lockheed's business.
The US Army is shortly expected to announce a decision in the Future Long Range Assault Aircraft competition, with Lockheed subsidiary Sikorsky pitted against Textron's Bell.
The programme to replace Sikorsky's long-serving UH-60 Black Hawk will deliver billions in revenue to the winner over several decades of expected production, with the loser left out in the cold.
That decision was scheduled for September but subsequently delayed by the army.
Although Lockheed says it currently expects modest growth from its rotary division next year, Sikorsky faces dwindling revenue from its signature UH-60 line.
The US Army in June signed what is expected to be its final deal for new Black Hawk purchases. After producing those, Sikorsky's UH-60 programme will depend on overseas sales and sustainment support.