American fighter manufacturer Lockheed Martin has reached an agreement with multiple European governments to establish an F-16 training centre in Romania.
Lockheed on 31 August said the deal with Romania and the Netherlands will establish a new facility, dubbed the European F-16 Training Centre.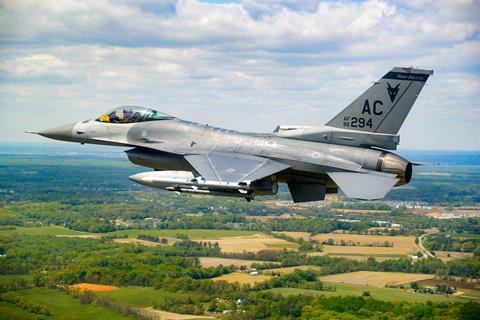 "Lockheed Martin is proud to partner with the Netherlands and Romania on this European F-16 Training Center in Romania, which will enhance mission readiness through a comprehensive F-16 training solution for Romanian pilots," says OJ Sanchez, vice-president of Lockheed's integrated fighter group.
Aircrews from the Netherlands and Romania currently train with F-16 simulators, the company says, adding that the planned training centre will offer an "affordable [and] efficient" sequence of ground-based and flight training missions.
The deal closely follows a series of rapid-fire pronouncements by the Netherlands, Denmark and the USA committing to train and equip Ukrainian air force (UAF) pilots with the single-engined fighter.
F-16 flight and sustainment training for UAF personnel will initially take place in multiple locations, including Denmark and the USA.
However, when the so-called "fighter coalition" of countries supporting Kyiv's request for an F-16 transfer first announced the training agreement at the 2023 NATO summit in Lithuania, the allies noted a longer-term F-16 training site would eventually be established in Romania.
Lockheed says the planned Romania facility will focus on providing services to Romanian pilots flying and operating F-16 fighter jets. But, it adds, the site "could eventually expand to include training for other nations".
"Once details are finalised, we are confident the training centre will ultimately benefit Romania and other regional F-16 operators, including potentially Ukraine," Sanchez says.
Washington has said it will approve a third-party transfer of F-16s to Ukraine from current European operators once flight and maintainer training is complete. Both Denmark and the Netherlands have committed to providing Kyiv with aircraft from their fleets.
It remains unclear when the new site will open, although Lockheed tells FlightGlobal the company has been developing the training centre concept for "several months".
There are more than 3,100 F-16s operating today in 25 countries, according to Lockheed. Six countries have ordered the latest Block 70/72 variant of the multi-role fighter.

Ryan Finnerty is the Americas defence reporter for FlightGlobal.com and Flight International magazine, covering military aviation and the defence industry. He is a former United States Army officer and previously reported for America's National Public Radio system in New York and Hawaii covering energy, economics and military affairs.
View full Profile