Lockheed Martin is moving to double its production capacity for certain precision long-range munitions that are expected to be critical in any future conflict.
Lockheed revealed on 3 April at the Navy League's Sea Air Space (SAS) conference outside of Washington DC that the company in late 2022 completed a second production facility for two types of subsonic cruise missiles.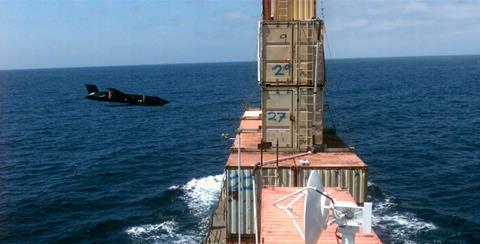 The 20,900 square metre (225,000 square foot) plant "includes dynamic factory model forecasting, a fully-robotic paint line and more automated processes", the company says.
The new factory will produce the stealthy Long-Range Anti-Ship Missile (LRASM) and low-observable Joint Air-to-Surface Standoff Missile Extended Range (JASSM-ER).
"There is quite a requirement on Lockheed to increase that production substantially," says Dominic DeScisciolo, Lockheed's business development lead for the LRASM programme.
The ship-killing LRASM, which can be fired from multiple aircraft types, in addition to ships and ground-based systems, is expected to be one of the most important weapon systems for the USA, should conflict ignite in the Western Pacific.
In war games exploring a Taiwan invasion scenario, the Center for Strategic and International Studies found large volumes of LRASM to be critical in a US-led effort to defeat a Chinese amphibious landing.
The US Air Force's top officer in the Indo-Pacific also recently confirmed that anti-ship weapons will be key to achieving air superiority in that theatre, where Chinese ships are expected to act as mobile air defence platforms.
"When they take away that airspace", says Pacific Air Forces commander Kenenth Wilsbach, "it takes away our ability to have freedom of manoeuvre, and to create effects via air power until you can attrit those ships".
US Navy "air boss" Vice Admiral Kenneth Whitesell, who commands the service's aviation forces, described the LRASM as the USA's "first line" anti-ship capability while speaking at SAS on 4 April.
The LRASM is certificated for launch from the Boeing B-1B bomber and Boeing F/A-18E/F strike fighter. Lockheed is also pursuing type approval with its fifth-generation F-35 Joint Strike Fighter and the Boeing P-8 maritime patrol aircraft.
The US Air Force had previously been pursuing LRASM certification for its Boeing B-52 heavy bombers as far back as 2019. However, DeScisciolo says that effort is no longer underway.
Lockheed currently produces both the JASSM and LRASM in Troy, Alabama. DeScisciolo says the company recently delivered the 150th LRASM missile to the US military.
The programme entered low-rate initial production in 2018.
However, with tensions flaring in Europe and the Indo-Pacific, the Pentagon now plans on dramatically expanding its purchases of the highly-technical weapon systems.
In December, Congress for the first time authorised the Department of Defense (DoD) to enter into multi-year procurement agreements for munitions. It set a target of 950 LRASMs and 3,100 JASSMs – a massive increase over the current production level.
DeScisciolo says Lockheed's first production facility in Troy has the ability to churn out "north of 500" missiles per year. With the opening of a second plant on the same site, the company aims to increase that to more than 1,000 missiles annually.
However, that rate of fabrication is still a few years away, as Lockheed ramps toward full-rate production.
Construction of the second line took approximately three years, according to DeScisciolo. The first tranche of operational missiles began moving through the production line in January 2023.
While Congress has legally authorised the DoD to begin purchasing munitions on a large-scale, funding for such contracts will come in the forthcoming fiscal year 2024 defence budget – still under debate in Washington.
"I think we're pretty confident that the multi-year [contracts] are coming," DeScisciolo says.
While the second production facility will give Lockheed the ability to produce more than 1,000 JASSMs or LRASMs annually, the defence giant will still need to secure enough components from its suppliers to actually hit that target.
"We already working through those challenges," says DeScisciolo, noting Lockheed has for the better part of a year been anticipating the increased missile demand from the DoD.
Suppliers for the JASSM and LRASM programmes were given advance notice to prepare for a greater volume of orders from Lockheed.
"We're generally satisfied," DeScisciolo says of the supply chain situation.
Currently, Australia is the only country outside of the USA that has been approved to purchase LRASM. However, DeScisciolo notes there is an "on going" process of securing foreign military sales approval for other overseas customers.
He predicts there will likely be news of other nations "joining the LRASM club" in the near future.