US defence manufacturer Lockheed Martin is optimistic about the Biden administration's proposed fighter jet acquisition for the upcoming US government budget cycle.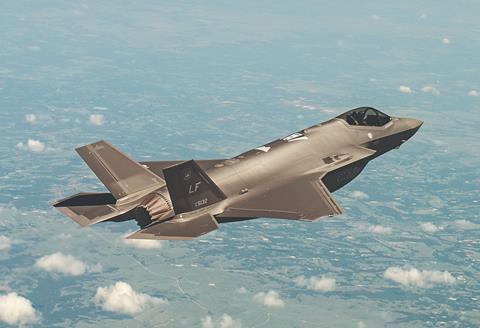 The US Department of Defense (DoD) on 13 March released its fiscal year 2024 budget request, which proposes funding for 83 Lockheed F-35 stealth fighters. Lockheed chief financial officer Jay Malave says that figure aligns with what Lockheed needs to meet its current annual production goals.
"We're appreciative and grateful for, frankly, the DoD putting us at that 83," he said during a JPMorgan industrial conference on 16 March. "That gives the certainty to production, and keeps stability of production and continuity."
The US government's FY2024 begins on 1 October 2023. Lockheed has set an annual target of delivering 156 F-35s per calendar year starting in 2025. The company expects to reach its 2023 goal of 153 aircraft, including sales to international customers.
"With the demand that we've got internationally… the 83 was right in the wheelhouse of what we needed it to be to hold that production," Malave says.
He notes that Lockheed's existing F-35 order backlog "fully supports" the delivery targets.
The DoD's figure of 83 F-35s for FY2024 is still just a proposal and must be approved by US Congress, which has authority to approve budgets. Lawmakers could decide to alter the Pentagon's figure.
Lockheed in January secured a DoD contract for production of F-35 Lots 15-17, covering some 398 aircraft.
Lockheed narrowly missed its 2022 delivery target of 148 F-35s, which Malave has previously attributed to a flight hold instituted in December. That restriction, which began after the crash of an F-35B during a pre-delivery trial flight, was lifted on 6 March.
F-35 engine supplier Pratt & Whitney, along with Lockheed, identified the cause of the problem and implemented what they describe as a mitigation measure. The US government began accepting new F-35 deliveries on 14 March.
Lockheed notes that it did not stop aircraft production during the 10-week flight stoppage, and thus still expects to meet delivery obligations.
On the rotary aviation side of Lockheed's business, Malave is optimistic about growth of subsidiary Sikorsky, despite the Pentagon winding down purchases of the venerable Sikorsky UH-60 Black Hawk and uncertainty around the outcome of the US Army's Future Long-Range Assault Aircraft; a contest Lockheed lost to Bell. Lockheed is protesting that decison.
Underpinning Malave's assessment of Sikorsky is the new CH-53K King Stallion heavy-lift helicopter, which the manufacturer is building for the US Marine Corps (USMC).
"We expect to see some slight growth, but certainly some growth," Malave says. "I think the upside from there would be, if we're successful, then that can grow further."
The US Navy, which oversees acquisitions for the USMC, last December approved full-rate production of 20 CH-53Ks annually. In January, the service modified its contract with Sikorsky to increase that figure to 24 airframes annually.
The DoD expects Sikorsky to achieve that production rate by the end of 2024.
The USMC declared initial operating capability on its CH-53K fleet in April 2022.