Lockheed Martin has resumed flights of company-owned, new production F-35 fighters following a nearly three-month pause after a crash at Fort Worth in December last year.
"We resumed F-35 production flight operations today following an F135 engine mitigation action," Lockheed said on 6 March. "Safety remains our top priority."
The first aircraft to resume flights took off from Fort Worth on 6 March, it adds.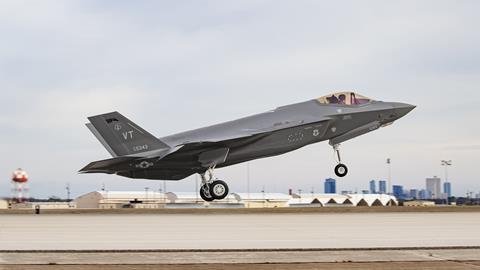 The news marks the latest positive step for the F-35 programme following the 15 December crash of an F-35B variant. Officials attributed the incident, which occurred as the aircraft was completing a vertical landing, to a "harmonic resonance" issue involving the jet's Pratt & Whitney (P&W) F135 powerplant. The pilot ejected.
The crash prompted Lockheed to halt flights of newly produced aircraft, and led the US military to ground an unspecified number of F-35s. Additionally, P&W halted F135 shipments to Lockheed, and Lockheed stopped delivering F-35s.
On 28 February, P&W vice-president of the F135 programme Jennifer Latka said the engine maker had developed an engine fix, and had started implementing some F-35s with the modification.
Two days later, on 2 March, the US military's F-35 Joint Program Office said the entire F-35 fleet would be retrofitted with the fix despite only "a small number of aircraft" having been affected by the harmonic resonance problem.
Neither the US government, P&W nor Lockheed have revealed details about the issue or solution.
Pressed to provide more information, Latka on 28 February said of the harmonic resonance problem, "Think of it as a vibration".
She called the issue a "very rare systems phenomenon" that occurs only at "a very certain frequency and certain amplitude".
Though P&W had previously studied harmonic resonance, Latka said the latest problem was "a new design learning".
She added that P&W, working with its partners, developed "a very elegant, immediate resolution" that can be completed relatively quickly. "We are not going deep into the core of the engine," she said of the fix.